Malta, an island nation near Sicily, is the world's smallest wine-producing country. There are a handful of small vineyards on both islands, Malta and Gozo.
Recently I somewhat unexpectedly found myself living in Malta for three months. Many of you may not know much about Malta or even where it's located. When I found myself going there, I realized the only reason I even knew it existed was because of the Humphrey Bogart movie The Maltese Falcon.
Malta is a small island nation in the Mediterranean, 50 miles or so south of Sicily. It is the southernmost country in the EU. To put its size into some perspective, the county I live in here in the US is three times the size of Malta and has a population of 14,000. Malta's population is just over 500,000 people. Malta is also the world's smallest wine-producing country.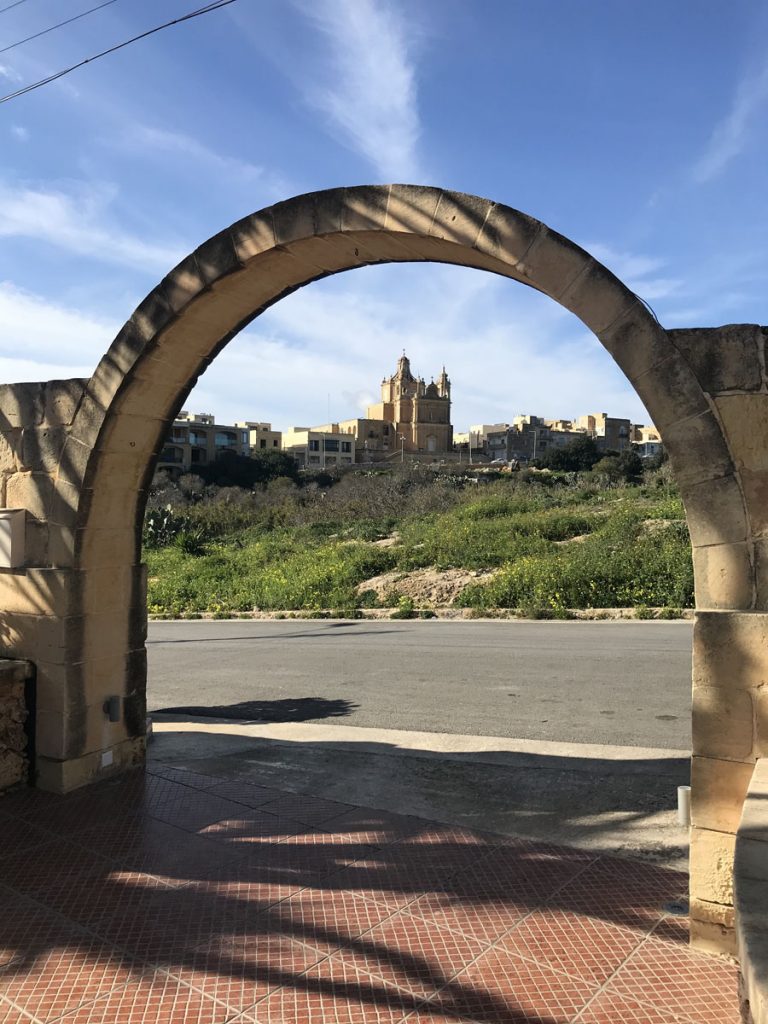 Many of the cities have changed little in the past several centuries. Being in one of the old cities such as Valletta, Mdina, or Victoria can feel like you're time traveling back to the days of the Roman Empire, especially at night. And when you travel from city to city you'll find the countryside and architecture are both breathtaking. I thoroughly enjoyed the three months I spent there.
As you might expect, being just off the coast of Italy, Malta is a country that loves wine. I was stunned at how good the wine selections were in even moderate sized grocery stores. Even more surprising was just how reasonably priced the wines were. When I queried about this, I was told repeatedly that the Maltese refuse to overpay for wine.
If you go to Malta and want to drink top-of-the-line Napa Cabs or Australian Shiraz you'll be disappointed, but you'll find lots of very good Italian and French wines. I even found a wonderful Israeli wine from Golan Heights, and the first truly special South African wine I ever had, while I was there.
But this post isn't about those wines, it's about the wines produced in Malta. Now remember, Malta is tiny, so there are only a handful of smallish vineyards, and very little of their wine makes it out of the country. If you're looking for travel information for Malta, check out our wonderful sister blog for details on what to do (besides drink wine) in Malta.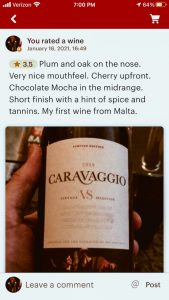 About These Reviews
What follows is the information that I could find on each vineyard, and my Vivino reviews of each of the Maltese wines I was able to get my hands on while I was there. I took all of the photos of the wine bottles in the screen shots from Vivino. The info on the photos comes from Vivino's database. You'll note that at the bottom of each photo is the name of the vineyard, where the vineyard is located, the aggregate number of stars out of five from all Vivino Reviews, and the average retail price (when available).
Maltese Wines
Marsovin Winery
Marsovin Winery is located just outside of Valletta and has been making wine for over one hundred years. It was founded by Chev. Anthony Cassar who gathered grapes from local farmers and made wine from them for sale in local shops. It has since grown into a legitimate wine producer. The Winery is open to the public for tours and wine tastings.
Marsovin: Caravaggio Cabernet Sauvignon 2019. Rating 3.5 stars out of 5. Plum and oak on the nose. Very nice mouthfeel. Cherry upfront. Chocolate Mocha in the midrange. Short finish with a hint of spice and tannins. My first wine from Malta.
Marsovin: Primus Ġellewża – Shiraz 2017. Rating 4.5 stars out of 5. Spectacular wine. Cherry, raisin, vanilla pipe tobacco, and a slight fungal note on the nose. Super smooth silky mouthfeel. Cherry, cedar, and cranberry upfront. Vanilla and chocolate in the midrange. Finishes with well integrated tannins and baking spices on a long, lingering finish.
Marsovin: Grand Maître 2005. Rating 3.5 stars out of 5. Overripe blackberries and barnyard on the nose. Light juicy mouthfeel. Cherry and currants upfront. Chocolate and pipe tobacco in the midrange. Some gentle tannins on the back end. It's nice enough, but for 115.00 Euros I expect more. I can get this from a 20 Euro bottle.
Tal-Massar Winery
Tal-Massar Winery is located in Trejqa tas-Sisien, L-Għarb. The vineyard is the smallest in Malta and is open to the public for tours and tastings. Reservations required.
Tal-Massar: Garb 2013. 4 stars out of 5. Deep ruby red color. Plum, paraffin, and a hint of tobacco on the nose. Super strong legs on the glass as this one is 16%. Very portlike on the first sip with hints of cherry and chocolate. Some spice on the somewhat hot finish. It's certainly an interesting wine. Sweeter than my normal fare and yet not off putting. The grape is Sircusian, which is one I'm not particularly familiar with. Since I'm in Malta for at least 90 days I want to try all the local wines I can find.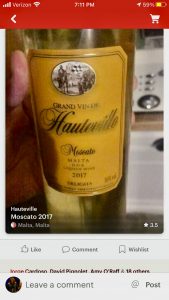 Delicata
Delicata is the vineyard that produces Hauteville wines. Founded in 1907 by Eduardo Delicata. Their offices are located on the waterfront in Valletta's Grand Harbour.
Hauteville: Moscato 2017. Rating 3 out of 5 stars. Diesel, strawberry, and lime zest on the nose. Syrupy mouthfeel. Green apple and petroleum upfront. Long acidic finish. At 17% this is not particularly varietally correct. Could easily be a Riesling. My wife decided to mix it with Blood Orange juice and it makes a nice mimosa that way.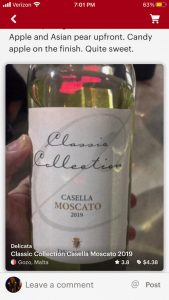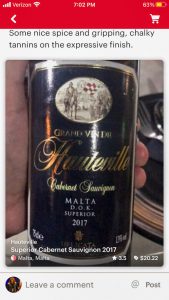 Hauteville: Superior Cabernet Sauvignon 2017. Rating 3.5 stars out of 5. Smoke and cherries on the nose. Light mouthfeel considering the blend. Tart cherry and burnt oak upfront. Tobacco in the midrange. Some nice spice and gripping, chalky tannins on the expressive finish.
Delicata: Classic Collection Casella Moscato 2019. Rating 3 out of 5 stars. Guava and passionfruit on the nose. Super light mouthfeel. Gala apple and Asian pear upfront. Candy apple on the finish. Quite sweet.
Meridiana Wine Estate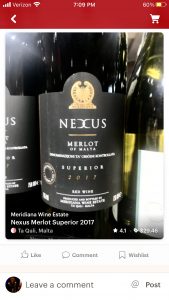 Meridiana Wine Estate was founded1987 by Mark Miceli-Farrugia. It is located on 47 acres in Ta' Qali. Open for tours and tastings.
Meridiana Wine Estate: Nexus Merlot Superior 2017. Rating 4.5 stars out of 5. Black currant, elderberry and smoke on the wonderful nose. Smooth, silky mouthfeel. Tart cherry, black currant and semi-sweet chocolate upfront. Chocolate and tobacco in the midrange. Well integrated tannins, smoke, and baking spices on the finish. Very nice wine.
Meridiana Wine Estate: Celsius Reserve Cabernet Sauvignon 2016. Rating 4 out of 5 stars. Another wonderful wine from what is quickly becoming one of my favorite producers. Forest floor, oak, and cherry on the nose. Very silky mouthfeel. Cherry vanilla cola upfront. Mocha in the midrange. Nice tannins and smoke on the finish.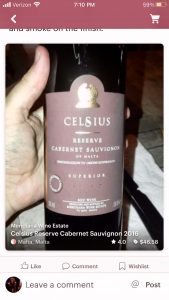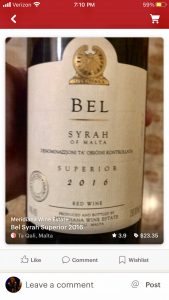 Meridiana Wine Estate: Bel Syrah Superior 2016. Rating 4.5 stars out of 5. Another wonderful wine from the Meridiana Vineyard. Toasted oak and stewed cherries upfront. Very silky mouthfeel. Dark chocolate Cherry cordial upfront. Cigar box and cedar in the midrange. Lots of baking spices and well integrated tannins finish this stunning wine. I'm absolutely amazed at the price to quality from this vineyard. Do they not know how good their wines are?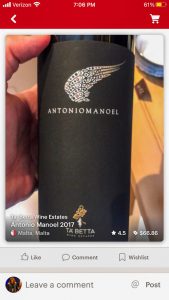 Ta' Betta Wine Estates
Ta' Betta Wine Estates was founded in 2002 by Astrid and Juanito Camilleri. It is located on 10 acres in an area known as the Contrada ta' Brija in Girgenti limits of Siġġiewi. Open to the public for tastings. Reservations required.
Ta' Betta Wine Estates: Antonio Manoel 2017. 4.5 stars out of 5. Very intense nose of smoke, blueberry, black currant, and blackberry. Wonderful super-silky mouthfeel. Blackberry, strawberry, and currants upfront. Vanilla, chocolate, eucalyptus, and cigar box in the complex middle. Finished with pipe tobacco, spice, and well integrated tannins. A very happy find on Gozo, Malta.
Ta' Betta Wine Estates: Philippe Villiers 2017. 4.5 stars out of 5. Peat smoke, vanilla, and a hint of cream of mushroom soup. Super silky mouthfeel. Cherry upfront. Vanilla, tobacco, and chocolate in the midrange. Smooth smoke, pepper, and well integrated tannins on the fantastic finish. This is my second wine from this vineyard. I'm impressed.
Farmer's Wine
There was zero information about the Farmer's Wine producer on the label. I found it in a small shop in the plaza in front of St. George's Basilica in Victoria on Gozo. The proprietor of the shop was unable to give me any info other than to say he got it directly from a farmer. It sounded to me as though this wine is made in the same way that several of Malta's bigger wineries started a century or more ago. Drinking this was like being able to step back in time and have a wine from a different era.
Farmer's Wine: Cabernet & Merlot 2019. 3 stars out of 5. Slate and red currant on the nose. Cherry upfront which resolves to some tannins and spice on the finish. I wasn't able to get much info on this wine, only that it is "made in the traditional Gozo way," and that it's cab and merlot. I was told to expect it to be quite dry. That's a bit of a stretch. I will probably never buy it again, but for under 3 Euros it's not horrible. Glad to get to try an uber-small local wine.
Wine Pairing Note
If you manage to get your hands on any of the reds in the above list while in Malta, let me suggest you pair it with one of their traditional rabbit dishes. They are just absolutely extraordinary.
Holy Wines
And as a final note I want to mention that while I was in Malta I met Adrian Mizzi, the proprietor of the wine importer Holy Wines, through the Vivino app. We immediately hit it off as he and I are both musicians in addition to wine lovers. I was able to order a variety of very interesting wines from outside of Malta through Holy Wines and he hand delivered them. So if you find yourself in Malta follow our link to Holy Wines' website and get some wine delivered directly to your door. Tell him Warren sent you.