Which are the best websites to find cheap flights? It depends on what you're looking for.
There are a million websites for finding flights. Pretty much every travel website can search for flights. Travelocity/Orbitz/Expedia (all owned by the same company and all pretty much identical now), AAA, Skyscanner, Kiwi, Kayak, Google Flights, and more. Plus each airline has its own site, as do the multi-airline alliances (SkyTeam, One World, and Star Alliance), and American Express. But which are actually the best websites for finding flights? Each has its strengths and weaknesses, so the answer may be "it depends."
Disclaimer: Everything in this post is my own honest opinion, and I'm not being compensated in any way for any of it. Posts may contain affiliate links, so if you click through on one and make a purchase you'll support this blog and I'll make a little money, at no cost to you. If you're interested, you can read our full legalese blah blah blah.
Search Engines vs. OTAs
Search Engines, such as Google Flights, simply find flights, and then direct you to airline sites or OTAs to book. Online Travel Agencies such as Orbitz, AAA.com, and Kiwi.com not only find the flights, but you book them directly with them. Sometimes OTAs offer cheaper deals, but as this article from Thrifty Traveler discusses, there are good reasons why you might want to book directly with airlines. (It boils down to the ability to make changes and receive refunds if something goes wrong–delayed or canceled flights, weather, global pandemics, travel strikes, airline meltdowns, technical issues, whatever.)
What's the Best Place to Search for Flights?
Back in 2017, I used Skyscanner (after being burned by an OTA) to find the cheapest flight to Ireland on short notice. (This led to flying on the now-defunct economy airline Wow Air. It definitely made us say "Wow" a few times, for reasons both good–the charming way they addressed us in the English version of announcements as "Dear Guests" with a lovely Icelandic accent–and bad–standard economy-airline stuff.
But is it what I'd use today? Honestly, probably not. It's not the most flexible or powerful tool out there anymore like it seemingly was at the time.
Today, I'd probably use either Google Flights or Kiwi.com, and definitely check airline sites as well.
Best Flight Search Engine: Google Flights
Google Flights is, of course, part of the Google empire. You might say they have a bit of experience in running search engines. Google Flights is flexible and powerful. This article from Thrifty Traveler is of the opinion that Google Flights is not only the best flight search engine, but absolutely the best site for flight bookings–or at least the best site to find flights, since it then connects you to the airlines to book directly.
Pros:
Allows you to select multiple airports for both your origin and destination. This can help you both get more convenient flights and save a lot of money.

There are 8 airports within the distance I'm potentially willing to drive (granted, 3 can be searched together as WAS–Washington DC area airports). Depending on where I'm flying to, there may be hundreds of dollars difference in the airfares–in which case I may be willing to drive to Atlanta or DC–or they may cluster much more tightly–in which case I may pick from the 3 airports within 2.5 hours of me in North Carolina, on the basis of which flights are most convenient.
Likewise, if I want to go to Scotland, it would be most convenient to fly into Edinburgh, but it may be hundreds cheaper to fly into London.

Also allows you to select an entire country, continent, or region as your destination (e.g. UK, Europe, Southeastern US, South East Asia). This is great if you know generally where you want to go, but aren't tied into one specific city.
Great Price Calendars that show the prices for departing on different days, and returning on different days; a date grid that shows the prices for different departure/return date combinations; a price graph to show you visually how the prices are running around your dates; and infographics to show you if the flights you're looking at are cheap, typical, or expensive.
Has an Explore option that will show you the prices of flights, on a map, from your selected airports to anywhere, on your selected dates–or for a weekend, 1 week, or 2 weeks in any or all of the next 6 months.
You can Track Prices, in which case Google will send an email to your Gmail account when prices drop. As of January 2023, Google is apparently rolling out an extremely limited program of price guarantees so that you can get a refund if prices drop after you book. Here's an article from Thrifty Traveler discussin the price guarantee program in detail.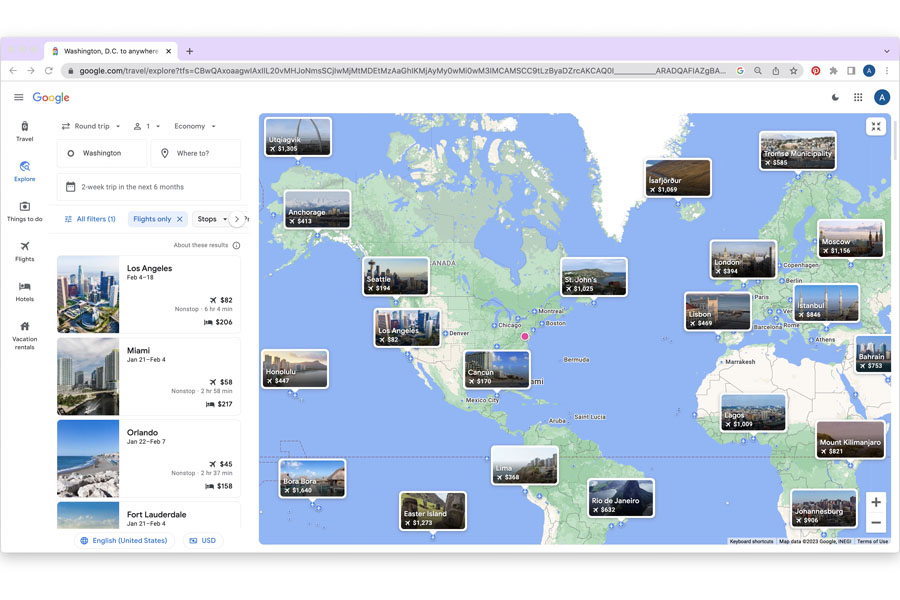 Cons:
May not always have the very cheapest fares, since occasionally OTAs have better deals.
A few airlines, such as Southwest, do not list their fares there (or with other search engines or OTAs).
Best for Travel Hacking: Kiwi.com
If you're going to use an online travel agency, Czech-based Kiwi.com is definitely one to look at. But is it one to use, though? Maybe, maybe not. This post by The Points Guy has a good discussion of the pros and cons of Kiwi.com. And here is a good discussion of how to use Kiwi.com, if you choose to do so.
Pros:
Option to mix modes of travel (flights, buses, trains). This can sometimes yield significant savings.
Extremely flexible search engine, even moreso than Google Flights.

Can choose a country, continent, or region (e.g. South-East Asia, but not Southeastern US) as your origin as well as your destination.
Nomad search lets you choose departure airports, a range of departure dates that can span multiple months, a trip length of up to 60 days, and multiple places to visit (with a range of how long to spend at each place). Then it arranges them for you to find the best deals.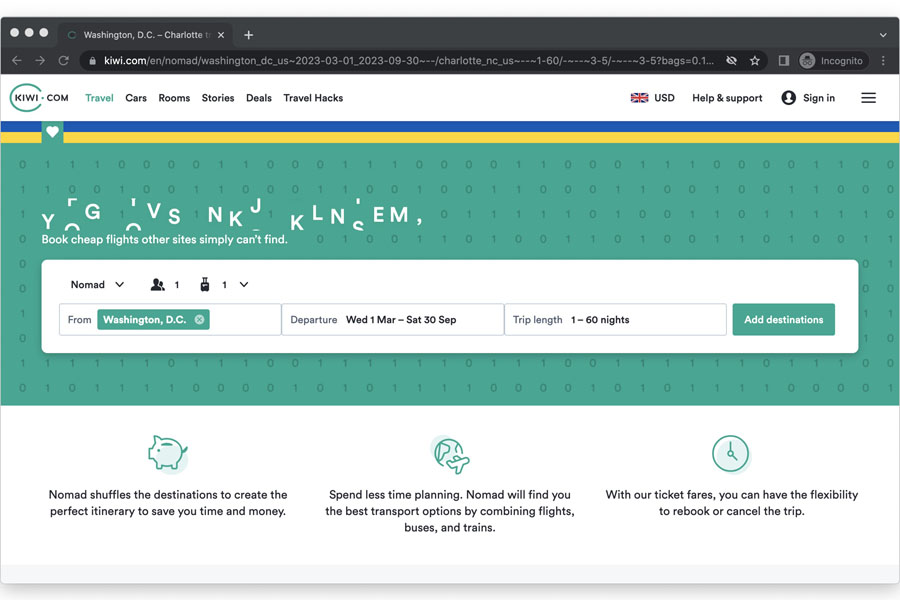 Option to go Anywhere, departing and returning Anytime, rather than just on certain dates, for the ultimate flexibility. (You can even choose the days of the week–travel only on weekends, or not on weekends, or fly out Monday or Wednesday and return Monday or Thursday, whatever you want.)
Option to receive price alerts.
Like Google Flights, it will find self-transfer/virtual interlining flights. But with Kiwi, you have the option to buy the "Kiwi Guarantee," which will help you reschedule if the delay or cancellation of a flight on one airline causes you to miss a flight on another. (But see the above-mentioned article from The Points Guy for a discussion of the limitations of this guarantee.)
Cons:
Like other OTAs, there are lots of complaints online about lack of customer service, lack of ability to reschedule, and lack of ability to get refunds (or being offered a refund of €10 for a booking that cost over $1500).
Uses a lot of fare hacks to get cheap prices. Some, such as virtual interlining/self-transfer, might be worth the potential hassles (with baggage, visas, Customs, security, even changing airports, etc.) to you in order to save money. Others, such as throwaway ticketing and hidden city ticketing/point beyond ticketing (aka Skiplagging), may violate airlines' Terms of Service and be considered unethical (and potentially drive up airfares and inconvenience other passengers). (See "Why airlines hate hidden-city ticketing and maybe you should too" and Why Hidden City Ticketing Really Is Too Good to Be True.)
One great way to use Kiwi is simply to see what's available, then go look for the same flight through Google Flights and/or directly on the airlines' sites. Also, if you want to filter out the options that use the less-ethical options mentioned above, you can do that by filtering to include only flights that include a checked bag.
Other Options
Best for Package Deals: AAA
If I were going to trust an OTA, it might be AAA. I'm probably biased in their favor because I've been a AAA member (for their roadside assistance) for decades. AAA.com's flight search engine is weak, though, and the multi-city function is buggy. The one great thing about it is that it seems to be unique in having an easy way to directly filter out basic economy flights (on the others, selecting flights that include a carryon bag is kind of a workaround to do that, but it's not always reliable). You don't have to be a AAA member to search or book through them, though if you input your membership number it supposedly unlocks extra options (I didn't notice any difference on my test searches, but YMMV).
On the other hand, they also do have actual travel agents that you can call, or meet with in person at their offices. That spur-of-the-moment trip to Ireland in 2017 was booked as an Ireland Package by walking into a AAA office. Airfare is normally included but because I was so last-minute they didn't have any availability, so they just took off that part of the price so that I could buy it myself. We also booked trips to Disney through AAA, several years ago, and got some pretty good discounts.
Their agents don't really deal with booking just airfare, but they're good at package deals, which can sometimes be a good value–and a good way to explore somewhere you've never been, if you don't feel comfortable making all your own arrangements.
Best for Award Flights; Best for Free Stopovers: Airline Sites
Each airline, of course, has its own site. (Here's a list with links.) Anytime you find a flight through a search engine or OTA, check the airline's own site to see if it's cheaper there, because sometimes it will be. Plus, if you have a preferred airline (I ❤️ Delta), it's always worth checking to see if their prices are reasonable for the trip you're planning.
Any time that you want to book a flight using your airline points/miles, you'll generally need to do it directly through the airline. (Here are articles from Thrifty Traveler and The Points Guy on how to best do that.)
What Are Stopovers?
Also, many airlines have (official or unofficial) free stopover programs that you can take advantage of when connecting through their home cities, but to do that you'll have to book through the airlines. Instead of a layover where you spend a few boring hours seeing only the airport as you pass through, enjoy a stopover and spend a day–or several–exploring another city on your way to or from your main destination.
This is something I haven't been able to take advantage of yet, but I so want to! Visit the Eiffel Tower instead of just catching a glimpse of it through the window. Spend a few days exploring Iceland instead of just hustling through the airport and grabbing bad pizza. (The pizza at KEF was terrible when we had it.) Break up the long, long flights to and from Asia with a couple of days basking on the beach in Honolulu. It's like getting two trips in one!
Here's a list of stopover programs, and here's another. And here's a great guide to several stopover programs and how to book them.
Most Potential: Airwander
Airwander.com is a site that lets you add stopovers to any trip, on any airline. The cost of adding these stopovers can be quite low, and sometimes even reduces the cost of the flight that you were looking at. It's just recently relaunched, though, and it's still a little buggy and frustrating to use. Hopefully in the near future I'll be able to update this and sing its praises.
Best for Round-the World Tickets: Alliance Sites
The three major alliances (SkyTeam, OneWorld, and Star Alliance), of course, also have their own websites. When booking a flight, it might be worth devoting a little time to searching your preferred one to see what you can turn up there, after you've had a look at Google Flights and/or Kiwi. You'll definitely want to look at them if you're contemplating a trip around the world. Here's a brief guide from a travel forum about RTW tickets. It's several years old, so I'm sure the prices are out of date, but the general information is sound. Here's a more in-depth discussion of RTW tickets from Nomadic Matt.
Of course, official RTW tickets are always less flexible than simply booking multi-city flights, and not always cheaper, so you'll still want to use the other sites, if only for comparison.
Best for Luxe International Travel for Platinum Cardholders: American Express International Airline Program
This only applies to a small percentage of people and trips. Any American Express cardholder can use the Amex Travel site to book trips.
But if you have an American Express Platinum or Business Platinum (not including the Delta Skymiles co-branded Platinum card), you can use the Amex International Airline Program to get discounted fares and 5x Amex award points (plus you still get miles from the airlines) on International First, Business, and Premium Economy Class tickets. These cards have an annual fee of $695, but depending on how much you use these and how good the deals are, you could easily save more than that. If this applies to you, rock on and go live your best life! Here's The Points Guy's guide to how to use the Amex IAP.
Questions? Opinions? Tips? Experiences to share? Leave a comment below!