Get out, enjoy the outdoors, and stay warm and cozy this winter with one of these soft, cozy options!
Stay Warm and Dry with Technical Flannel, Fleece, and Wool
One of the nice things about cool weather is getting to wear cozy, warm clothes. A classic flannel or chamois shirt feels super soft and cozy, and is wonderful to wear around town. But if you're venturing out into the great outdoors for a cool-weather hike, camping trip, or bike ride, remember that "cotton is rotten" and "cotton kills." Cotton absorbs lots of water, doesn't wick it away from your skin, and takes a long time to dry–a recipe for hypothermia in cold weather. Instead, choose one of these moisture-wicking technical wool or synthetic options.
Disclaimer: I'll always recommend products that I believe are useful and top quality. Posts may contain affiliate links, so if you buy something you'll support this blog and I'll make a little money, at no cost to you. As an Amazon Associate I will earn from qualifying purchases. If you really care, you can read our full legalese blah blah blah.
Base Layers
Let's start with a couple of base layer options. Base layers add warmth with minimal bulk. They can be expensive, but here are a couple of options that are a great value.
For a lightweight base layer top, this 32 Degrees synthetic base layer is an unbeatable value. The regular price is $24, but as I'm writing this they're on sale for less than half price! They come in black, white, sand, and half a dozen more interesting colors as well.
For a midweight base layer, these Old Navy merino base layer tops are an excellent value at just $39.99, and as I'm writing this they're on sale for 30% off! They come in black, grey, and an especially pretty heathered turquoise called All the Waves.
Technical Flannel
If you love flannel but want fabric that wicks sweat and dries faster, try technical flannel! A good example is this synthetic Eddie Bauer Technical Flannel shirt. My favorite colors are Indigo and Dark Evergreen.
Another great example is this synthetic Royal Robbins Thermotech Flannel. It comes in 8 different colors; my favorites are the light grey Silver Birch Picchu and the slightly darker Light Pewter.
A nice one with 10% wool/90% synthetic brushed fabric is this AKHG Midnight Sun shirt from Duluth Trading. Again, I favor the dark grey Black Oversized Plaid.
Some technical flannels are marketed for mountain biking, though of course you can wear them for whatever you want! They tend toward a more athletic, slightly fitted silhouette, like this Alpkit Woodsmoke shirt, available in blue plaid or solid green. (I included the solid green one in my Build a Versatile Capsule Wardrobe post.)
Another good example is this Burton Favorite Performance Long Sleeve Flannel, in black plaid, white plaid, and solid grey.
Wool Shirts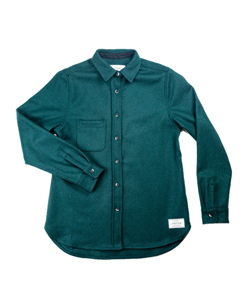 Wool is cozy, insulating, and moisture wicking. The Fjallraven Canada Shirt has the look of a classic checked flannel, but with 70% wool. It's available in 5 colors, but my favorites are white/grey, navy/black, and classic red/black.
The Modern Melton Wool shirt comes in 10 solid colors. I especially like Everglade green. Melton is a heavy, dense weave that's resistant to wind and water.
The Kitsbow Icon Shirt is another athletic, slightly fitted silhouette marketed for mountain biking. It comes in 6 plaids and two solids. Unlike most of these shirts, it comes in Short and Tall as well as regular. I especially like Glacier Lake Ombre plaid and solid Deep Blue Ridge.
The Sawyer Shacket is a classic shirt jacket of soft, heavy wool with an oversized fit. It comes in black, cream, camel, and a plaid with all three colors.
Fleece Shirts
Fleece shirts are another cozy option. Some will just leave you sweaty, though, so be sure to choose ones that will wick sweat instead.
The Stio Women's Thermop Fleece Snap Shirt comes in 4 solid colors. Burton Hearth Snap-Up Fleece comes in a couple of solids and a blue print.
So get out, enjoy the outdoors, and stay warm and cozy this winter with one of these soft, cozy options! Questions? Other cozy faves we should know about? Leave a comment below!