Prepare yourself for a magical trip back through time with food, games, and entertainment–even jousting!
Come With Me to the Renaissance Faire!
Warren and I first went to the Carolina Renaissance Festival (the official name of the NC Renaissance Faire) in 2013, when our daughter was 9 (and super adorable in the Renaissance dress costume I'd found for a steal on sale after Halloween), but it's been happening since 1994. Honestly, I wish I'd found it back then, because I'm sure that 23-year-old me would've had an amazing time! But it's still pretty awesome.
The Basics: Q&A
What is the Carolina Renaissance Festival? Where is the NC Renaissance Festival? Simply put, it's a Renaissance faire near Charlotte, NC.
How long does the Renaissance Festival last in North Carolina? Saturdays and Sundays from the first weekend in October through the weekend before Thanksgiving. It's typically open from 9:30 or 10:30 a.m. to 6:15 (October) or 5:30 (November).
How big is the North Carolina Renaissance Festival? It's one of the largest Ren Faires in the US. It's 25 acres filled with hundreds of vendors, entertainers, games of skill, and even rides.
How much do Carolina Renaissance Festival tickets cost? Rates can change each year, of course, but in 2022 they were $32/adult and $20/children 12 and under. Admission includes all the shows, and various exhibits such as the Petting Zoo, but not the rides and games–and of course, not food and drinks, of which there are plenty for sale.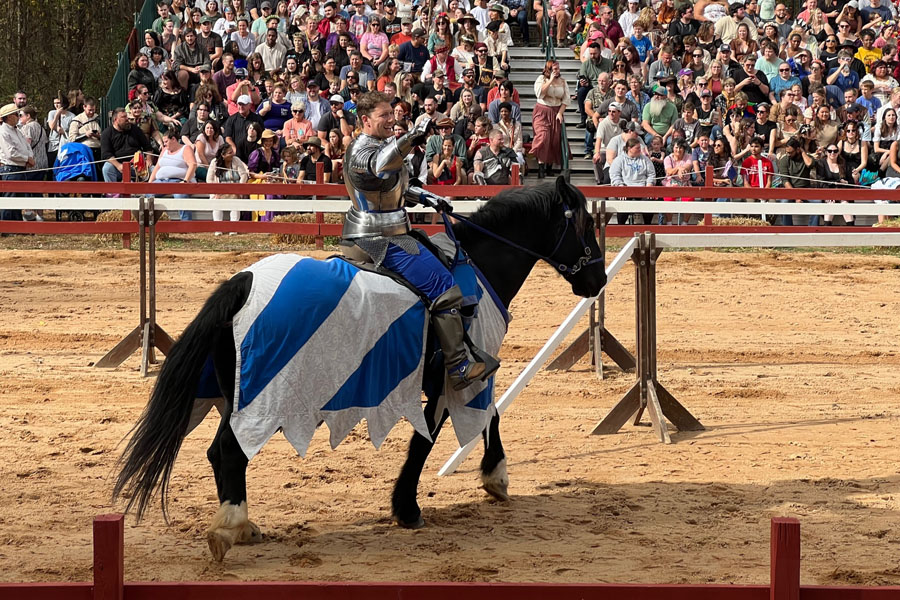 All the Fun of the Fayre
Various weekends have different themes; the next-to-last weekend is often Time Travelers' Weekend, when you can wear a Star Trek uniform or Storm Trooper armor if you like, and the one before that is often Pirates' Weekend.
If you've never been to the NC Ren Faire, you're in for a treat. There's really nothing else like this fully immersive experience. You'll travel back through time to the Village of Fairhaven where bold knights rule the day and saucy wenches abound, tradesmen and artists sell their wares, and food and drink are everywhere. And don't miss the mermaids!
It's fun to go in costume, and you can even rent a costume just outside of the gates. So many people wear costumes that it's often hard to tell the guests from the five hundred "residents" of Fairhaven, which honestly makes it all the more fun. But a bit of warning, Fairhaven can be dusty or muddy. All of its walkways are dirt, so when it rains it gets muddy and when it's dry it gets dusty. Our daughter wore her suede boots this year and thought she'd never get all of the dust off of them.
Helpful Hints
Make sure you buy your tickets for the North Carolina Renn Faire online ahead of time, as days sell out regularly, and often before the gates open. If you want to go several times during a season, you can buy a Season Pass; season pass holders are allowed in even when the day is otherwise Sold Out.
Don't use GPS directions! Click here for official driving directions. Also, I'd suggest you arrive early, as the lines get long quickly and traffic can be quite a hassle. There's plenty of parking, but you have to drive through a long, winding one-way road with lots of other people before you get to it. It's not much more than 5 miles off of the interstate, but it can take an hour to go those 5 miles, wend your way slowly down the lane to the parking, park your vehicle, walk to the gates, wait in line there, and get in.
Upon entering the gates you'll find yourself in the village of Fairhaven. There are a lot of kiosks and shops right up front. Pro Tip: Skip these until later in the day, since almost everyone stops there as soon as they get in. You'll have much shorter lines and a better experience if you walk to the far end of the village and work your way back to the front.
Make sure you bring some cash, as most of the vendors (including food vendors) do not take credit cards. There are about a dozen ATMs throughout the village, but they tend to have very long lines. Surprisingly, the ones outside the gates had the shortest lines this year. And speaking of tips: DO tip the performers, if you can!
Ride and Play
If you have younger kids they'll definitely want to ride some of the "Peasant Powered" rides. It's kind of amazing to see just how much fun they can have on such low tech rides. There's the Piccolo Pony Ride, which is the World's Largest Rocking Horse. Da Vinci's Flying Machine is reminiscent of the many modern carnival rides that go round and round. Fly high into the sky bungee jumping on the Pirate's Assault Catapult. Sail the high seas (or at least swing high in the air) on a pirate ship (which is even fun for grownups). And there's an adorable Butterfly Ride for kids.
Our daughter's favorite was the Prince and Princess Jousting, where she won several prizes by skewering a small ring with a lance from atop a wooden horse moving along a gentle zip line.
There are lots of medieval themed games of skill. You can throw axes, knives, or throwing stars, or try your hand at some archery with longbows or crossbows. There's even a rock climb up the side of a castle and a jacob's ladder to test your balance skills on. Click here for a full list of rides and games.
And you can take your kids to the Queen's Free Petting Farm, or they can ride a live pony or camel, and meet a real live mermaid.
Eat
And once you've worked up an appetite with all those rides and games you'll want lunch or an early dinner–or at least drinks and snacks! There is so much food available at the fair! Steak or chicken on a stick, turkey legs, fish & chips, bread bowls, deep fried pickles, funnel cakes, portabella mushroom sandwiches, scotch eggs, and so much more.
Don't even get me started on all the desserts, and of course beer and wine. And definitely visit the mead tent! Click here for a full list of the food vendors. Pro Tip: Do NOT miss the frozen apple cider at Capuccino Inn–so sweet and cinnamony and delicious! Lady Ellie's Gnome Cones had some amazing-looking flavors of ice cream, and I wish I'd had the chance to get some.
Be Entertained
The festival boasts some 14 stages that are all in nearly continuous use. It's impossible to catch all of the shows in just one visit, so you'll want to look over the schedule and decide which of the fabulous shows to watch. There's juggling, sword fighting, singers, musicians, story tellers, belly dancers, and even falconry. Click here for a full list of entertainers. Our family's favorites include the harpist and Roses of the Realm belly dance troupe.
Of course, you can't miss the main attraction: the joust. Bold knights ride out to defend the realm's honor. You'll thrill to the clash of armor and the roar of the crowd. Just be warned that you need to arrive at least 15 or 20 minutes early to get a seat in the stands. If at all possible you may wish to wear a hat to shield you from the sun as the stands have very little shade and even in November they can get quite hot. We were broiling when the sun came out just in time for the mid-afternoon joust the first weekend in November.
Shop
Finally there's shopping. You'll find gifts and mementoes here that you really can't find any place else. With over 140 shops and kiosks there's something magical for everyone. You can find hand-blown glass, jewelry, clothing, leatherwork, swords & axes, books, and even fortunetellers. There are so many shops that I don't have the space to do them justice, but click here for a full list of vendors.
Disclaimer: While some posts contain affiliate links, we are not being compensated in any way by Carolina Renaissance Festival for this post.
As I mentioned earlier, you really can't do everything in just one day. My recommendation is to spend the weekend. Get a hotel or vacation rental in Charlotte, Lake Norman, or Concord. Go to the website. Look over all the attractions and schedule both days in a way that allows you to experience the Ren Fair in a nice leisurely fashion. You could even combine it with another event such as the Carolina Balloon Fest in Statesville in mid-October (though then it might not be so leisurely anymore!). If you can, take a long weekend and spend some time exploring the area.
So prepare yourself for a magical trip back through time to when knights were bold and wizards were magical, and watch your children light up when they meet fairies and sprites in the Village of Fairhaven.
Questions? Suggestions for the best things to do at the Carolina Renaissance Festival? Leave a comment below!