Wondering what to do in Blowing Rock, NC? Here are the best things to do in romantic Blowing Rock.
Are you wondering what is special about Blowing Rock? Is Blowing Rock worth visiting? Well, let me fill you in!
Blowing Rock is a charming little town just off the Blue Ridge Parkway in Western North Carolina. It's named after The Blowing Rock, which is billed as "North Carolina's Oldest Tourist Attraction," complete with a cheesy-sounding "Indian Legend." There are lots of things to do in Blowing Rock.
The town of Blowing Rock is very cute, with flowers everywhere. It's very walkable. There are plenty of nice places to stay, to eat, and to shop. And there's town park with excellent playgrounds for the kids, a duck pond, and a wooded hiking trail.
Warren and I first discovered Blowing Rock about 20 years ago. We were headed down the Parkway to Asheville (also a great little destination for a getaway). We got off the Parkway to get gas.
At the time, there was a shop in the downtown that had a bubble machine in the window, so there were bubbles floating all over the town in the sunshine. It was absolutely magical.
We never made it to Asheville that weekend. We were so enchanted that we stopped and stayed in Blowing Rock.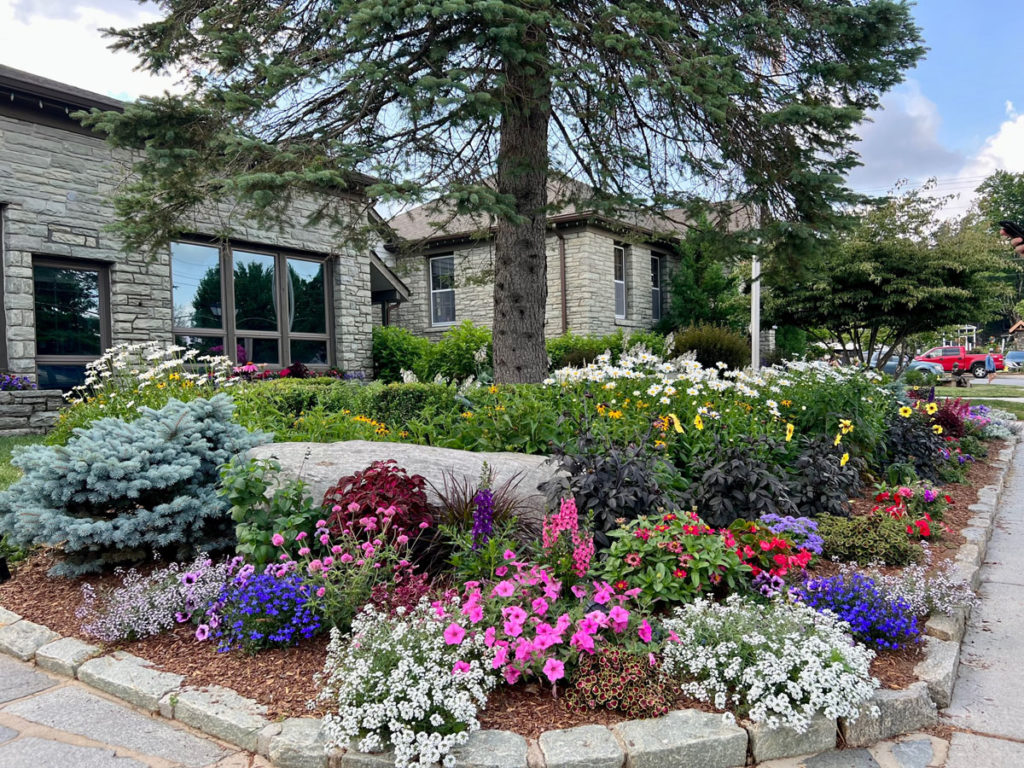 Today, the shop with the bubble machine is, sadly, long gone, but Blowing Rock is still one of our favorite destinations. We've taken our daughter, who was just a gleam in our eyes when we first found it, there, and spent many an anniversary there as well.
What to Do in Blowing Rock, NC
Visit The Blowing Rock. The views from up there are outstanding, especially in autumn. There's also a gift shop, snack bar, museum, walking paths, water features, friendly cats, and so many flowers!
Shop. There are tons of cute shops downtown, where you can buy clothes, gifts, home goods, souvenirs, wine, toys, and more.
Eat. There are good restaurants, a coffee shop, a bakery, and Kilwin's Fudge and Ice Cream.
Walk. Burn off some of those calories by walking around the town. If you have kids, definitely take them to the playground to burn off some energy. (Pro tip: There are clean public restrooms in the park, too). Take the steps down from the back side of the park, past the handy but unobtrusive parking garage, and walk around the duck pond and the garden. Take the trail through the woods.
Where to Eat in Blowing Rock
There are really too many restaurants in Blowing Rock to mention. Two of our favorites are Bistro Roca (especially for lunch or, better still, Sunday brunch) and Twigs (dinner only).
Bald Guy Brew is the perfect place for coffee and a pastry in the morning. Cafe Violette has lovely courtyard seating (dinner only).
The Gamekeeper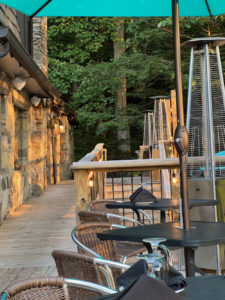 Our very favorite restaurant is just outside of town. The Gamekeeper is between Blowing Rock and Boone, off the Parkway. It's named for the game dishes—including elk, ostrich, buffalo, and more—that grace its menu. But I wouldn't hesitate to take a vegetarian there, because they always have a vegetarian special as well, and like all their food, it is unfailingly excellent.
They have deservedly made it onto a lot of "best" lists, so gone are the days when you could expect to walk in spontaneously and get a table. You should definitely make a reservation in advance.
That said, even on the spur of the moment there is some hope. This summer (2022) their patio has been open, weather permitting, for walk-ins.
And if you call a day or two in advance, they'll also put you on a waitlist in case of cancellations.
Where to Stay in Blowing Rock
There are plenty of options, and most of them are lovely and/or quite cute.
Meadowbrook Inn has a pool, which is a nice option if you have kids. Chetola Resort has its own small lake. Yohnalossee Racquet Club is directly across the street from the Gamekeeper, but the downside is that it's not within walking distance of town. There are a number of small properties, many of which are part of The Village Inns of Blowing Rock.
My personal favorite place to stay in town is the Inn at the Ragged Gardens. The gardens are gorgeous, the rooms are nice, and their Best Cellar restaurant is enjoyable for dinner. They have outdoor concerts on Friday nights all summer.
Blowing Rock is a great place for a romantic getaway or a fun and relaxing weekend with the whole family.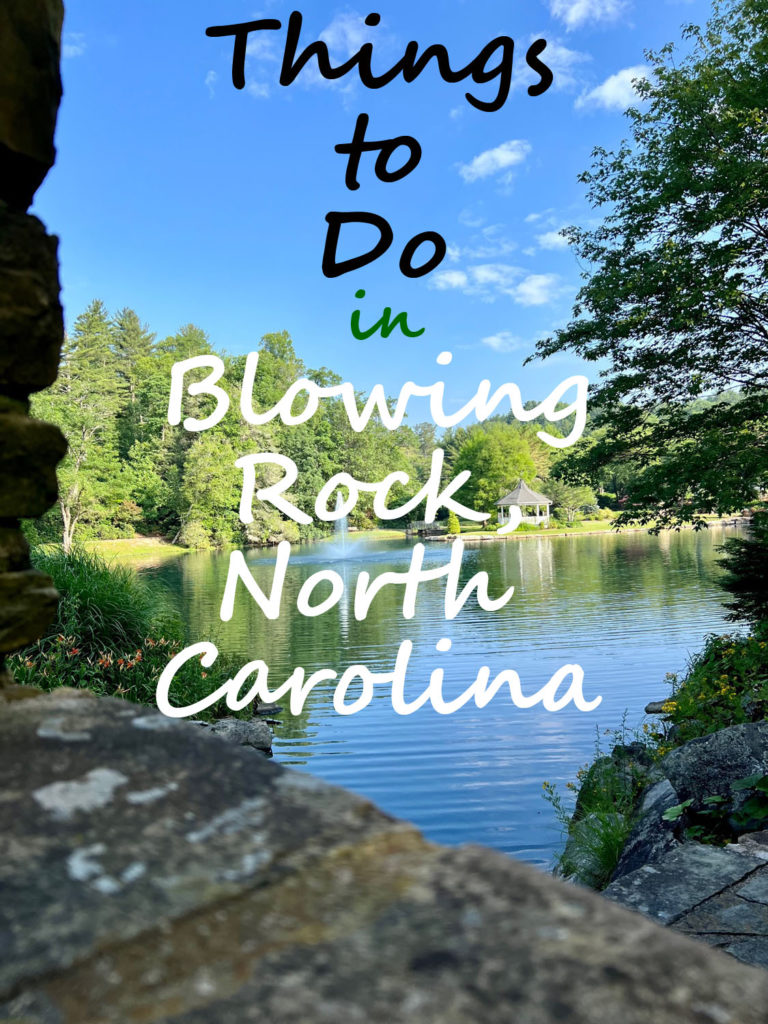 Leave a question or comment below!