NC's Crystal Coast is an excellent place to relax on the beach or by the pool and hang out with friends and family, but there's much more to do in the area.
North Carolina's Crystal Coast is one of my favorite places to visit every year. If you've never heard of the Crystal Coast, or if you're just wondering what there is to do there, let me tell you about it!
We've been visiting the Crystal Coast every year for over a decade. It's an excellent place to just relax on the beach or by the pool and hang out with friends and family. That's usually how we spend all our time there, most years. But this year, in line with my philosophy that one of the ways to get more out of travel is to do different things when you visit the same places, we decided to do a few other things, too.
And we discovered that there's plenty to do in the area. (But we made sure to save plenty of time for relaxing on the beach and by the pool and hanging out with friends and family, too!)
Disclaimer: None of the links in this post are sponsored or otherwise going to make us any money. It's just stuff I think you'll like!
Where is the Crystal Coast?
You've probably heard of North Carolina's Outer Banks. Technically, the Crystal Coast is the southern part of the Outer Banks–the Bogue Banks. When people say "The Outer Banks," they usually mean the part from Corolla down to Hatteras and Okracoke. The Crystal Coast is the part below that, from Cape Lookout to Emerald Isle. It also includes the "Inner Banks" communities on the inland coastal side of Bogue Sound.
Where to Stay
There are various hotels, condo resorts, and vacation rentals throughout the Crystal Coast. We've actually only stayed at two places, and I highly recommend both of them.
Condos in Atlantic Beach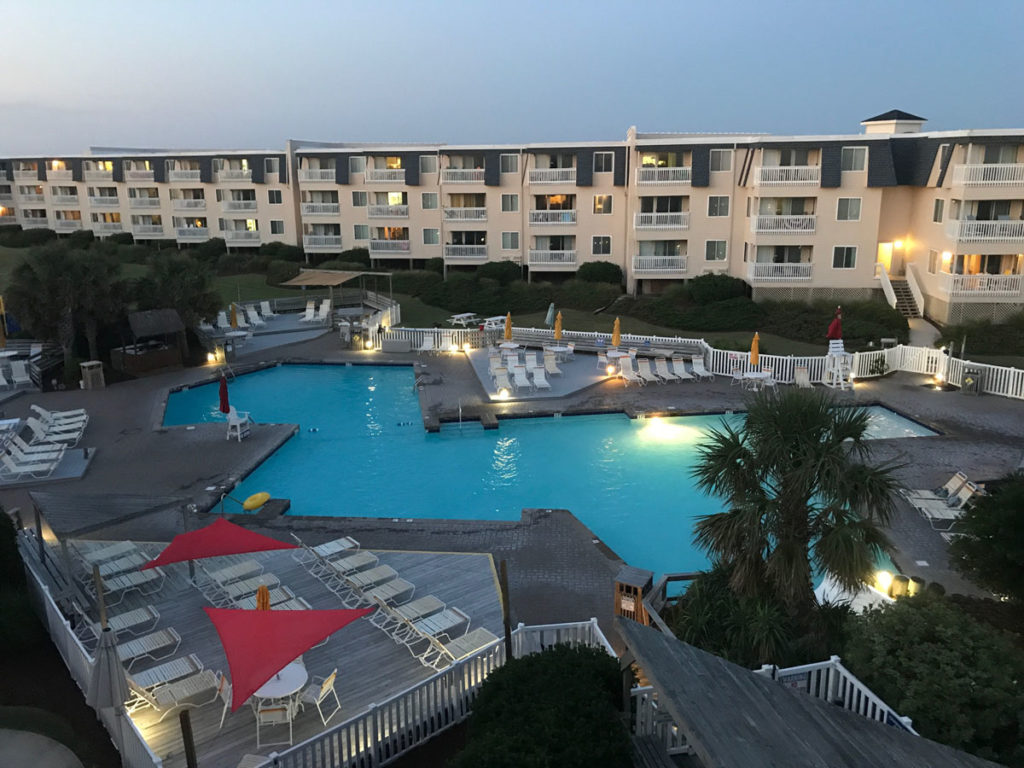 The first is an excellent condo resort, A Place at the Beach, in Atlantic Beach near Ft. Macon. Units there are individually owned, and various ones can be booked through their official website, VRBO, Vacasa, etc. The complex is well-maintained and has indoor and outdoor pools. The outdoor one has a waterslide that is perfect for all ages–not too intense for little kids, and still fun for grownups. Other amenities include a hot tub, a mini-golf course, grills, tennis courts, and more.
There are two buildings, labeled K and L. Building K has larger condos, with a spacious kitchen, two bathrooms, and two or three full bedrooms (depending on the unit, of course); the smaller condos in Building L have one bedroom (sometimes with a den that serves as a tiny second bedroom that's best for young kids) and a galley kitchen.
Both buildings are oceanfront, but if you want a direct oceanfront view, choose your unit carefully. Each building has some units that face the ocean directly, but more that look into the center area with pool and playground, or out over the parking lot; first-floor oceanfront units mostly have a view of sand dunes.
Camping at Emerald Isle
The other place we've stayed and enjoyed is Holiday Trav-L-Park Resort in Emerald Isle. It's an oceanfront camping resort with water-and-electric tent sites, water-and-electric sites for RVs up to 30', and full-hookup sites for RVs up to 50'. It has an outdoor pool, bathhouses that are extremely nice and that they keep sparkling clean, a laundry room, a coffee-and-bagel shop, and more.
They're open April through November. October is my favorite time to visit. I really loved tent-camping there. Now that we have a popup camper, I need to go back there with it.
Where to Eat on the Crystal Coast
We've barely sampled the restaurants in the area. Since we're either camping or renting a condo, we usually cook most of our meals. (There's a Food Lion on the island; this time I ordered groceries online so all we had to do was pick them up.) Amos Mosquito's is quite close to A Place at the Beach, and it is very good, but usually very crowded–doors open at 4:45, and you need to be there earlier than that to stand in line to get in.
Things to Do on the Crystal Coast
Aquarium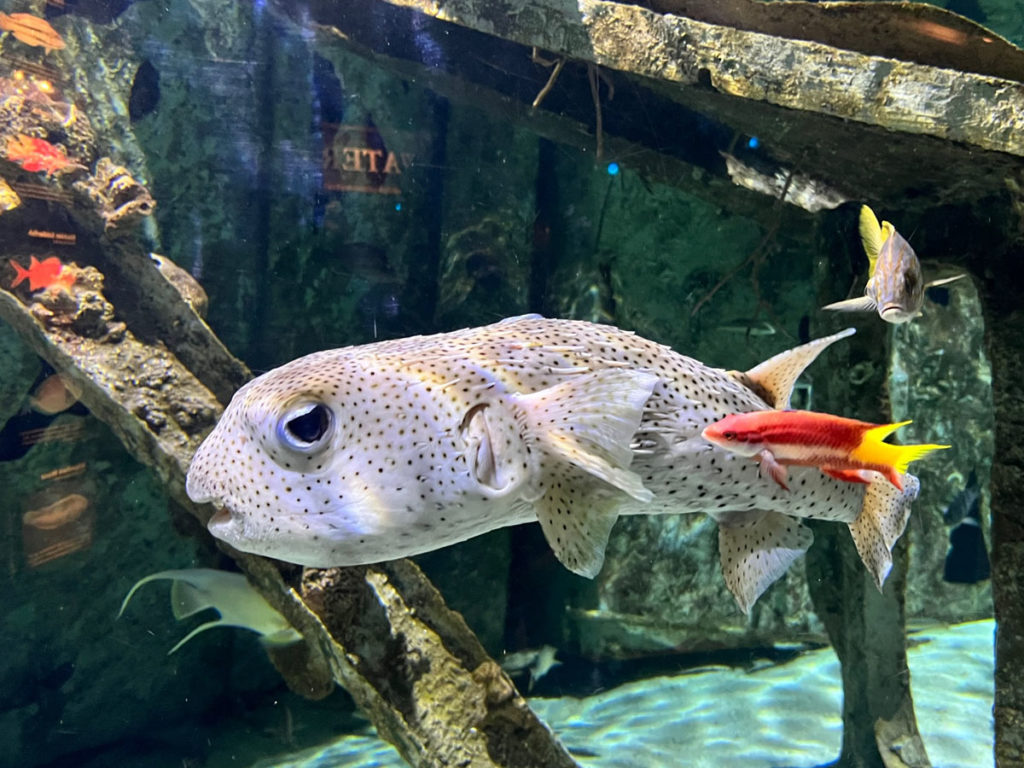 Our favorite attraction is the NC Aquarium at Pine Knoll Shores, between Atlantic Beach and Emerald Isle. There are plenty of fish, jellyfish, turtles, and more. Our favorite things are watching the otters and petting the rays in the petting tank. There's also an outdoor playground, a reptile house, and a boardwalk through the marsh.
Parks
If your kids need to burn off some energy, visit the Atlantic Beach Town Park. The park features a playground, a splash pad for the kids to cool off, a large skatepark, an 18-hole mini-golf course, a half-court basketball court, a picnic shelter, a concession stand, & public restrooms. Except for the mini-golf and concessions, it's all free to visit and use.
If you have an interest in history, make sure to visit Fort Macon State Park. The fort itself was built around 1830 and is completely restored. There's a visitor center with exhibits and gift shop. The park also offers beach access and a swimming area, bathrooms, picnic shelters, and trails for hiking and biking. There's no charge for admission, except occasionally to the fort itself for special events.
Kayaking
There are numerous places to go kayaking on the Crystal Coast. You can rent a kayak or bring your own. We love kayaking, so next time we visit, we want to take a kayak tour.
And More!
What's better than regular yoga? Beach yoga! NC Coastal Life offers yoga classes on the beach near APATB and the Ft. Macon public beach access. I highly recommend these! (They also offer scuba instruction and dive travel, and rent out a condo that I think is the best unit at APATB; see their website NCCoastalLife.com for details.)
Battle Works in Atlantic Beach has laser tag and axe throwing. We spent an hour throwing axes there and had a good time, but I was disappointed that they didn't have throwing stars or other pointy things to throw, it was strictly hatchets. Next time we'll try Crystal Coast Axe Throwing in Morehead City, which is only a few minutes farther away and has a better variety of things to throw, plus some interactive targets that look fun.
There are a couple of mini-golf courses: besides the one at the Atlantic Beach Town Park, there's Professor Hacker's Lost Treasure Mini Golf at Salter Path and Golfin' Dolphin over in Cape Carteret on the mainland near Emerald Isle.
Golfin' Dolphin also has a Sky Trail that looks really fun. More new things for us to try next time!
Things to Do on the Water
There are various cruises and ferry trips to watch dolphins, see wild horses, go birdwatching, visit Cape Lookout with its lighthouse, and go shelling on Sand Dollar Island. (There are even pirate-themed cruises from Beaufort.) We haven't tried any of them yet, but we definitely plan to next time, and I'll tell you how it goes.
Things to Do Inland
Things to Do in Morehead City
Morehead City, on the inland side of the Atlantic Beach Causeway, is perhaps most famous as the site of the NC Seafood Festival held every autumn.
Things to Do in Beaufort
The charming small town of Beaufort, NC (not to be confused with Beaufort, SC), is only about 15 minutes from Atlantic Beach. You can stroll along the waterfront. Check out the cute shops. Tour the historic buildings at the Beaufort Historic Site. And of course, eat seafood at one of the many restaurants.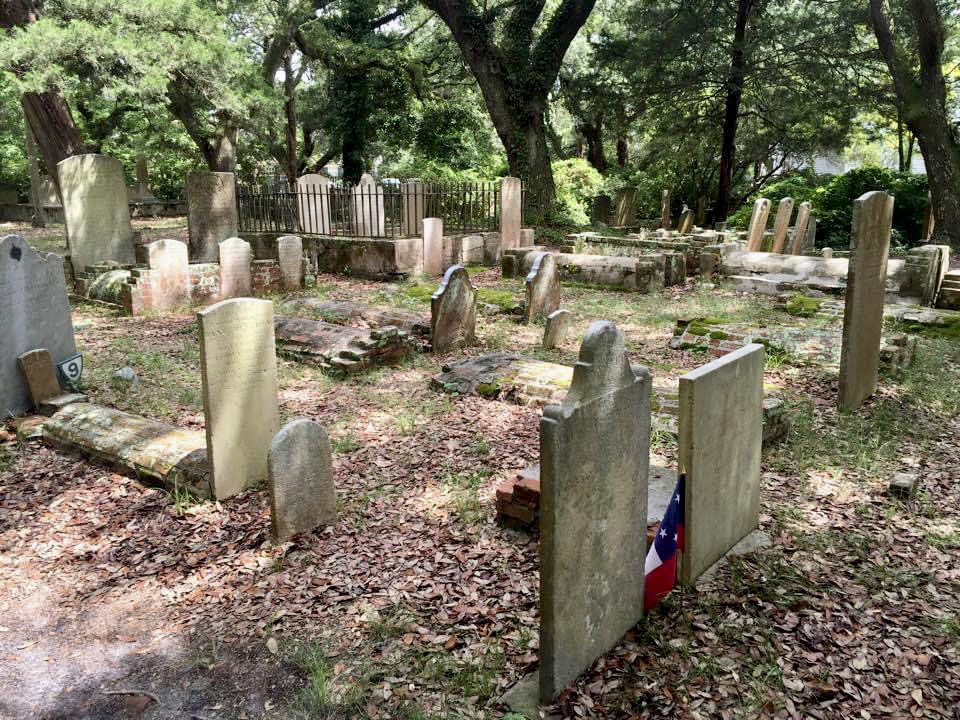 Wander around the Old Burying Ground on your own or take a tour of it from the Beaufort Historical Site or visit it as part of the Beaufort Ghost Walk (a ghost/pirate themed tour that looks very cool). We went on our own when our daughter was 12; afterward Warren said "That was really cool!" and the response he got was "If by cool you mean completely creepy, then yes!" 🤣
Beaufort has more than one connection with pirates. Blackbeard's ship, the Queen Anne's Revenge, sank in Beaufort Inlet in 1718, and the wreck of it is still there today. Then in 1747, the town had to fight off Spanish privateers, an event commemorated in the annual Beaufort Pirate Invasion, a fun event held in late September every year.
Things to Do in New Bern
New Bern is a pretty town on the Neuse River, a bit less than an hour inland. It's named after Bern, Switzerland, and uses the same flag and coat of arms as Bern. Because of this, there are also statues of bears all over town.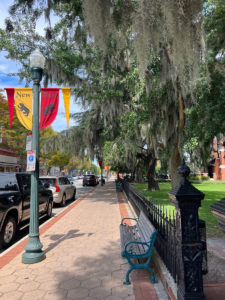 Definitely stroll around the downtown area and visit the local shops and restaurants. We ate lunch at MJ's Raw Bar and Grille, which we enjoyed. I got the Sweet Strawberry Salad with scallops and it was delicious; the small size was perfect for lunch. The advertised "Steamed Dungeness Crab Cluster" special that Warren ordered turned out, disappointingly, not to be Dungeness (they were out, and substituted without mentioning it in advance).
New Bern is the birthplace of Pepsi-Cola; the Pepsi Store now occupies Bradham's Drugstore where Caleb Bradham invented it.
One thing you can't miss in New Bern is Tryon Palace. Tryon Palace was the English governor's mansion, and then the first peacetime capital of NC after the American Revolution. It burned down but was reconstructed in the 1950s. Tickets are $20 and include a guided tour of the main building, plus the ability to wander around the grounds and outbuildings, and see the galleries and exhibits in the NC History Center.
I'd recommend visiting in the spring or fall. When we went on September 1, the weather was so hot that I wilted before I could really explore the lovely gardens, which was sad.
We only spent an afternoon in New Bern, but now I want to go back and spend a couple of days there and explore it thoroughly. Here's a good guide to New Bern that's a little more in-depth.
Things to Do in Aurora
If you have budding paleontologists in the family, you'll definitely want to visit the Aurora Fossil Museum and Fossil Park. The museum's collections include fossils, rocks and minerals, and Native American artifacts. At the Fossil Park you can search through piles of rock debris from a local mine for fossils, especially fossilized shark teeth–even huge megalodon teeth! Admission is free, just check in at the museum.
Aurora is about an hour and a half drive from Atlantic Beach, through Havelock and New Bern. Or for a slightly longer but definitely more scenic trip, you can take the free ferry from Cherry Branch to Minesott Beach (be sure to check the schedule for times).
The Crystal Coast is More Than Just a Beach!
As you can see, NC's Crystal Coast has more going for it than just the beach, although the beach is pretty awesome, too!
Questions? Suggestions for other things to do in the area? Leave a comment below!