Savannah's Historic District is gorgeous and charming. Learn about some of the highlights.
In March we went to Crystal River, Florida, and then Tybee Island, Georgia on spring break. On the way home we stopped into Savannah, Georgia, for a couple of hours. It was so charming that Warren and I decided to go back for several days in May.
I'll definitely need to go back to Savannah again so that I can write a more comprehensive guide. Right now I just want to share a few highlights from our trip with you.
Savannah's Historic District
First of all, definitely stay in the Historic District. There are plenty of hotels and Airbnbs. We really didn't venture outside of the Historic District, except for the riverboat cruise that we took. (The Savannah River is very much a working river, and disappointingly the paddlewheel on the boat was fake and didn't even touch the water, but it was still a pleasant cruise with some lovely scenery and a spectacular sunset.)
The Historic District has kind of the same vibe as New Orleans. The Waterfront, especially, with its restaurants and frozen daiquiri shops, made me think of the French Quarter. A little farther from the river, it reminds me more of the Garden District. But it's not trying to be a New Orleans knockoff. It's a stately and lovely historic city in its own right.
It's arranged around a series of squares and parks, the largest of which is the 30-acre Forsyth Park.
Picturesque as it is, Savannah is a lovely city for a romantic getaway. Check out this article for suggestions for 13 Incredibly Romantic Things to Do in Savannah, GA.
It's also a great place for a family trip, especially if you have daughters–Savannah is also known as the birthplace of the Girl Scouts of the USA. You can tour the Juliette Gordon Low Birthplace (which I did, and highly recommend) and visit the Girl Scout First Headquarters.
If your kids aren't into Girl Scouts, check out this article for 21 Unmissable Things to Do in Savannah with Kids.
Shopping and Dining
There's excellent shopping, especially around the City Market and Broughton Street. There are a couple of good bookstores, such as The Book Lady and E. Shaver Booksellers. There's also Saints and Shamrocks, an Irish and Catholic store in the Arabian building, which used to be a stable for Arabian horses.
Savannah's dining scene is also on point. Some of the places we especially enjoyed: Excellent Cajun food at Huey's on the River. Splurging on the upscale Alligator Soul (where I sampled Alligator Three Ways, and then had antelope for my entree). Himalayan food at Namasté on Brougton Street (the fried momos are awesome). An ice cream treat from Savannah tradition Leopold's. And walking around with a frozen daiquiri from Wet Willie's or with an excellent mojito from Mint to Be Mojito Bar. Yes, you can walk around with alcoholic beverages in most of the Historic District–another similarity to New Orleans.
There's even a cat café, Pounce, on Broughton Street, where you can watch and interact with adorable felines who are up for adoption. Be sure to pre-book a time slot! I'd recommend going as soon as they open, when the cats will likely be most interactive.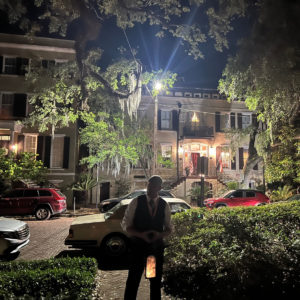 Tours
You can tour Savannah on foot, in a horse-drawn carriage, a trolley, or even a hearse. Check out this article for a comprehensive guide to tours and excursions in Savannah.
Savannah is referred to as one of America's Most Haunted Cities, and ghost tours (often combined with pub crawls) abound. We did the Candlelight Ghost Tour, which was very informative and pretty family-friendly. I'm sure there are others that are more theatrical and intense.
It's also known as the setting of the book Midnight in the Garden of Good and Evil, and the movie based on the book. So there are also tours dedicated to Midnight in the Garden of Good and Evil (which I kind of want to take next time). Or you can just walk around on your own and see the sights such as Mercer House, where Jim Williams lived and Danny Hansford died.
We spent most of our time just walking around, on River Street and in Forsyth Park and doing self-guided walking tours with the help of the GPSMyCity app, which we really enjoyed. We made a point of visiting every single one of the squares and parks.
And of course, if you get tired of spending time in town, you can go spend a day at the beach! Tybee Island is less than half an hour from Savannah.
Questions? Other suggestions for what to do in Savannah? Anything you want to see me cover if I write a more comprehensive article about it later? Leave a comment below!