Autumn is probably my favorite time of year to go to the beach. We spent a long weekend at Carolina Beach, NC.
In early October my daughter had a Friday and the following Monday off from school, so we spent a long weekend at Carolina Beach, NC. We both really love the beach. Long, long walks on the sand at the edge of the waves relax us and bring us joy and peace. Autumn is probably my favorite time of year to go to the beach. The weather is usually perfect, with days that are warm but not too hot and nights that are cool but not too chilly.
Sometimes in October we go to Emerald Isle and camp at Holiday Trav-L-Park, but that wasn't the trip I had in mind this time. I originally wanted to go to the Outer Banks–probably Nag's Head, Kitty Hawk, or Kill Devil Hills. Warren and I haven't been there in over 20 years–since before our daughter was born.
But on short notice, we couldn't find a condo in the Outer Banks. We'd stayed at Kure Beach in 2018 and enjoyed it, so we decided to try Carolina Beach.
I thought that I could write an article about it afterward. Honestly, though, to do it justice and write a proper guide, like I did for Myrtle Beach and for the Crystal Coast, I'll need to go back to the area again. But I thought I could at least share this little travelogue with you; I hope you'll enjoy it.
Carolina Beach
Carolina Beach is just outside Wilmington, NC, on Pleasure Island, along with Kure Beach and Fort Fisher.
We arrived after dark on Thursday evening. We passed the little downtown area, with its boardwalk and amusement park, and headed up the beach for what seemed like a long way, but was really just under 2 miles.
Our condo was one of the few in the short space between Carolina Beach Pier and Freeman Park at the north end of the island.
We unloaded the car, then walked over the wooden walkway across the dunes to get to the beach. By the light of the moon and the lights on the nearby pier, we got our feet wet in the ocean–our ritual for the first night at the beach when we arrive too late for a sunset walk.
Disclaimer: I'll always recommend products that I believe are useful and top quality. Posts may contain affiliate links, so if you buy something you'll support this blog and I'll make a little money, at no cost to you. As an Amazon Associate I will earn from qualifying purchases. If you really care, you can read our full legalese blah blah blah.
Friday
The next morning, we went for one of our long beach walks. We initially turned right and went past the pier, but soon turned around. That stretch of the beach wasn't great for walking that morning–slanted and slightly soupy, with lots of tidal pools that had parts too deep to cross without getting soaked up to the waist.
So we walked back past our building and up to Freeman Park. Freeman Park is an undeveloped area about two miles long, stretching from just past the pier to the northern tip of the island. It instantly became our favorite place in the area to walk, despite having to run the gauntlet of fishing poles each time. The northern end is closed to vehicles due to erosion, but that just makes it an even better place to walk.
A lazy afternoon and a second long beachwalk up to the end of the island completed our day.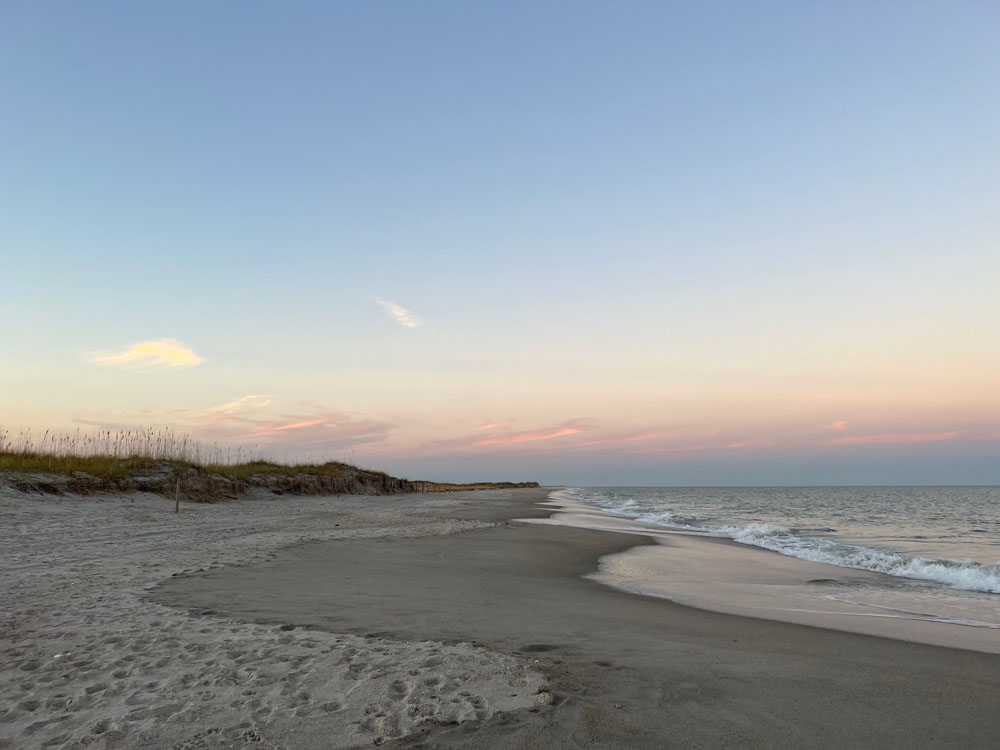 Saturday
Saturday I awoke in time for the lovely sunrise. After our morning beachwalk, we spent a little time in downtown Carolina Beach. We stopped in at a couple of shops, such as Island Book Shop and Celtic Creamery.
We also went to the boardwalk. Sadly, Britts Donut Shop had already closed for the season. But Warren and our daughter got slushies. And I got excellent ice cream (pumpkin spice and caramel banana) at Krazy Kones.
Then we drove down past Kure Beach to the NC Aquarium at Fort Fisher, at the southern end of the island. We found that they were requiring advance reservations/tickets. It being the off-season, we were able to get those online for a slot in 20 minutes. (I wouldn't try that in the summer!) Cell coverage was spotty so we drove a few minutes back up the island, but we might have been able to get on the aquarium's wifi to do it, if we'd thought of that.
After an enjoyable visit to the aquarium, we drove about half an hour for Indian food in nearby Wilmington. Back to the condo after dinner for a sunset beach walk (of course), then we returned to the boardwalk. The amusement park had opened at 5, my daughter wanted to ride a couple of rides, and I wanted to take a few photos.
Pro tip: try to park on the street, if you can, instead of in one of the parking lots. You have to pay for street parking, too, but at $5/hour it's about a third cheaper than the lots.
Sunday
Sunday was our third and, sadly, final full day. Morning and evening beach walks, of course, bracketed the day. The morning beach walk was extra awesome due to the presence of some adorable little ponies and mini horses on the beach!
The beach there allows horses from October 1-April 30. We saw a gorgeous full-size one being ridden, and another having its photo taken. But these little ones were absolutely ridiculously cute! Better still, they're therapy animals, owned by an awesome organization called Stampede of Love. The one named Kiwi, dressed as Jack Sparrow, was the absolute cutest!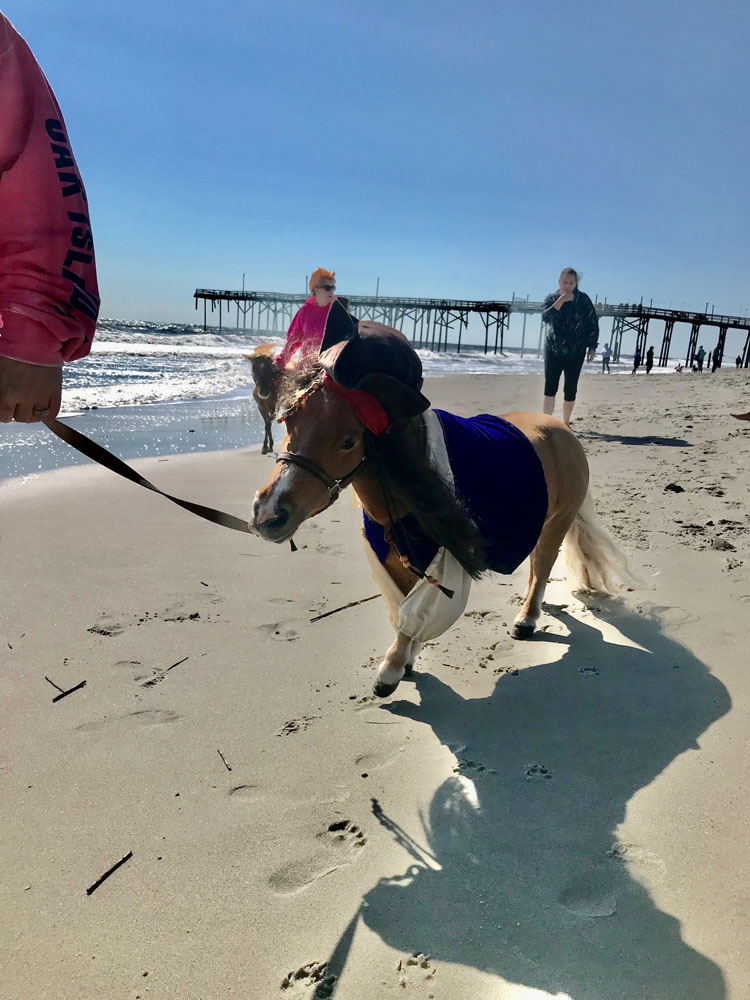 In the early evening I finally spent some time just lying on the beach, listening to the waves. I should have done more of that. Hours more.
Monday morning, I was definitely not ready to come home. But there was only time for a final walk up to the point and back before getting in the car. The long drive home, a quick dinner at our local Mexican restaurant, and then I collapsed into bed in exhaustion by 8 pm. According to my Fitbit, we walked about 30 miles in the 72 hours from 10:30 Friday morning to 10:30 Monday morning.
A few years ago, I had hoped that maybe I could spend this year at the beach (any beach). It was not to be, but maybe in some future year I'll be able to do that. Until then, I'll visit beaches whenever I can.
More About Freeman Park
I didn't want to interrupt the narrative flow, but I do want to give you more information about Freeman Park. It was originally Freeman Beach, one of only two beaches in NC for African Americans during segregation. Unfortunately, it was devastated by Hurricane Hazel in 1954. It was later made into a park, and is now owned by the Town of Carolina Beach.
To drive into the park, you must have a 4-wheel-drive vehicle (and no, all-wheel drive does not count). The fee to park in Freeman Park is $30/day from October 1-March 31, $50/day from April 1-September 30. Lots of people come and set up some chairs and a shade, and spend their time fishing or just hanging out with friends and family.
If you want to use the park for the day without paying so much, you can park nearby–the nearest public beach access with parking is between the condo we were renting (next to the park entrance) and the pier–for $5/hour or $25/day.
Or if you are staying in the area, simply walk up the beach–there's no fee. We saw lots of people pulling wagons up the beach to the park.
Camping at Freeman Park
You can also camp overnight there from Labor Day until just before Memorial Day, for $50/night (in addition to the parking fee, which you must also pay). You do have to reserve a campsite in advance. Campsites are 24'x20', in a strip between the dunes and the high tide line; maximum of 8 people per campsite.
Pro tip: Friday night was the most crowded, with a lively atmosphere. Country music mingled with techno, hip hop, and Spanish and Indian music. I thought Saturday would be even moreso, but was surprised to find it a little less crowded. Sunday night through Thursday night will be much less busy. Don't expect quiet, though: the sites are all side by side, and boom boxes are popular.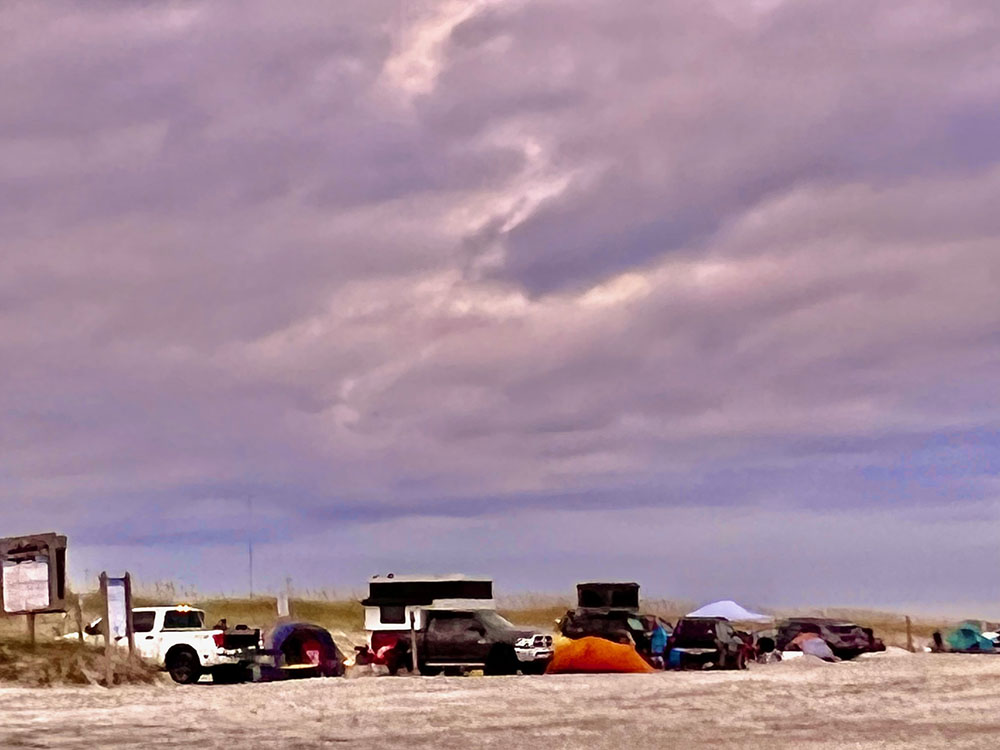 No RVs or trailers are allowed. We saw everything from little 4-person backpacking tents to 3-room family tents, SUV tents, truck tents, and vehicle top tents. Campfires are allowed in portable fire pits or Solo Stoves.
Questions? Favorite things to do in the area that we should know about? Leave a comment below!