I'm usually calm about travel, but I was stressing this trip. Am I packing too much? Too little? Will my flights be delayed? Canceled? Will my luggage be lost?
I'm usually pretty calm about travel, but I was stressing more than usual about this trip. Am I packing too much? Am I packing too little? Will my flights be delayed or canceled?
Will my luggage be lost? I bought an AirTag for our checked bag. Should I have bought them for our carry-ons in case we have to gate check them?
How swamped will the airport be? How awful will the line for security be?
How early should we get there? The airport is 2 hours away, our flight is at 6pm, is noon early enough to leave for the airport?
I feel awful for leaving my cat for so long even though we've got a great house sitter. Have I got all my ducks in a row for her?
Will I get everything done before I leave? I still need to do some stuff online, and I want to print out my itinerary and reservations. Is 7:15 early enough to wake up?
These were my thoughts as I went to bed at 11:00 the night before my flight.
At 12:45 I woke up to use the bathroom…and the power was out.
So then I lay awake for an hour, stressing. And I continued to stress whenever I woke up during the night. And again when I woke up at 7:15.
I did get all the things done, and—hallelujah—the power came back on at 8:45.
We left on time around noon and I was still stressing a bit, but by 3:00 I was feeling better.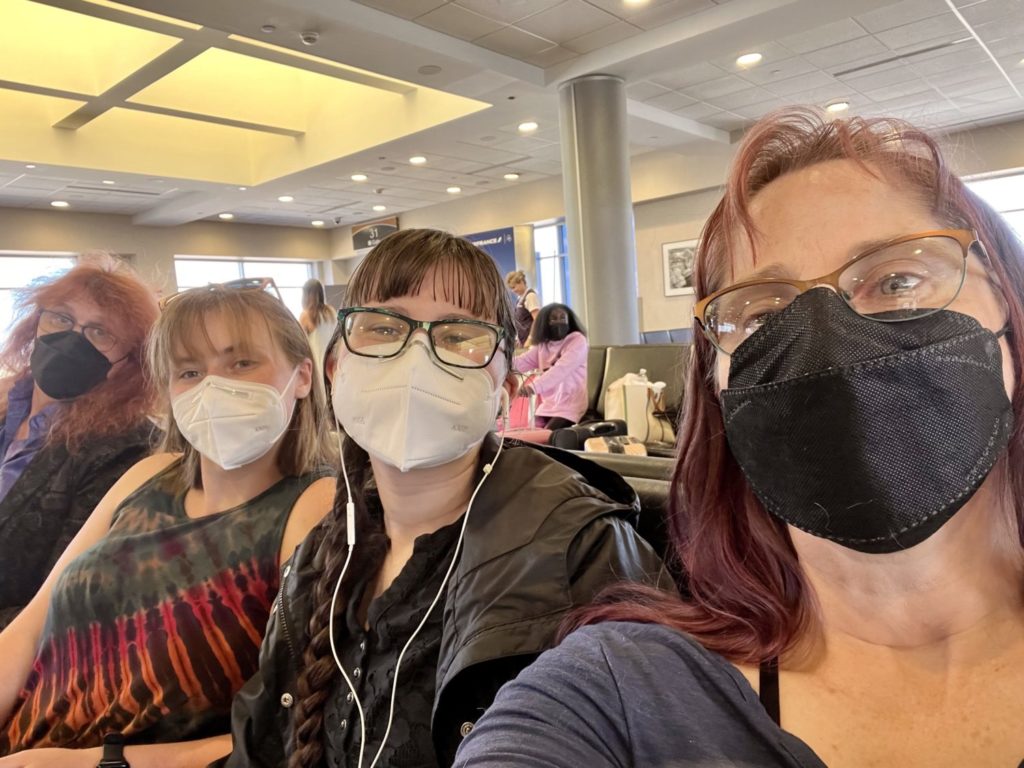 We were flying out of GSO, which is a bit smaller than our usual airports. The airport wasn't mobbed, and lines were short. Delta's gate agent was cordial, as usual.
Since masks aren't required, we were some of the few people wearing them—we're fully vaccinated and not too worried, but also feel like the last thing we want would be to get COVID on this trip and feel awful while we're in Ireland.
There was literally only ONE person in front of us for security. There was a short delay as she argued with the TSA agents about whether or not her cigarette lighter was allowed. Final verdict from the supervisor: it WAS allowed, and she went on her way.
They had the new machines where you don't have to remove anything from your bags. In my experience those sometimes seem to make things slower instead of faster, because so many things apparently look odd on them, and it seems like at least one of our bags always get flagged.
This time it was my daughter's. Her microwaveable fuzzy slippers looked odd on the scan. The TSA agent was gently amused, inspected them thoroughly, and passed us along cheerfully.
By 3:00 we were seated in a quiet little restaurant in the quiet little terminal, waiting for for food that actually turned out to be surprisingly tasty if a bit expensive, and an Angry Orchard hard cider for me. I drank it over ice, a habit I picked up on my first trip to Ireland.
I'm gently amused by the FindMy/AirTag notification that my checked bag was "left behind…last seen at Piedmont Triad International Airport"…so in other words, it was at the same airport as me, just not right with me. So far, so good.
After our late lunch, we sat down near the gate… and promptly discovered that my beloved husband, Warren, had left our whole tech organizer, with most of our adapters and cords, a battery bank, a wall charger, our car charger, and our Chromecast, behind.
On the good side, I had an adapter and one Lightning cord in my backpack, and my granddaughter had 3 adapters and a couple of cords. A quick trip to one of the shops, and we had a wall charger, a second battery bank, and two more lightning cords.
At about 4:30, our phones lit up with notifications that our flight to Atlanta was delayed from 5:59 to 6:35. So our originally almost-two-hour layover there would now be just over an hour instead. We'd have to rush to make it from one terminal to the other, but hopefully it should still be fine.
They announced that if your connecting flight leaves Atlanta before 8:30 you should go ahead and use the app to reschedule, but if it's later you should (currently) be fine. Ours was scheduled for 9:15, so we should theoretically be fine.
Later we were notified that our flight out of Atlanta to Dublin was also delayed, by about 25 minutes, which made me feel more comfortable about having time to make the connection.
Apparently there was a fire on a Spirit Airlines plane in Atlanta that snarled things up. I hope no one was hurt, and as little property damage as possible.
Arrived at the gate in ATL about half an hour before they'll begin boarding. We should be all set. A short night of intermittent dozing on the plane, no doubt, then Dublin in the morning. We'll be 5 time zones ahead of our home in Virginia.