I really can't express how happy I felt when I saw the "Failte Go Baile Átha Cliath" signs. It was 75F and sunny. The air smells like flowers and sea salt.
7/12/22
We were in Comfort Plus, which was actually reasonably comfortable. Nothing like the lie-flat beds up in Delta One, of course, but not bad. We were in the first row of the section, which on this particular plane meant we (except for Warren, who's 6'1") could stretch out our legs without even touching the bulkhead in front of us.
The food was…not very appealing. It wasn't actually terrible, but it wasn't actually good, either, even by airline standards, IMHO.
Pre-sliced and somewhat processed-seeming chicken breast was served on instant mashed potatoes (which I'm oddly fond of), 3 undercooked baby-cut carrots, and green beans seasoned with too much black pepper, all mooshed together in one container.
Credit where credit is due, though, it was steaming hot. And the separate, chilled roasted couscous and feta salad was actually pretty decent.
We hit a bit of choppy air a little over an hour in. It settled down after half an hour or so, and I dozed for about four hours.
Breakfast was better than dinner: a reasonably tasty egg-and-cheese English muffin, and a fruit cup with hard honeydew but ripe, delicious cantaloupe.
Going through Passport Control took some time because the line was long, but it moved pretty quickly.
I really can't express how ridiculously happy I felt when I saw the "Failte Go Baile Átha Cliath"/Welcome to Dublin signs.
We hadn't had to gatecheck our carryons, and our one checked bag arrived safe and sound after a few minutes' wait.
We took a moment to buy Irish SIMs for two of our phones on the way out of the terminal.
Unfortunately, the first rental car we got, an Audi A4, was just a little too small to hold all our luggage. We had to go back and "upgrade" to a Ford hatchback for $$$$.
Then Warren discovered that despite having driven on the left for 8 months previously, there is still a learning curve on the first day. We may have gone through a few roundabouts multiple times in order to get where we were going.
We finally got to our cute Airbnb for the night, a few km from Howth, and cooked brunch from the groceries we'd had delivered from Tesco.
My daughter settled down to watch an episode of Star Trek and the rest of us went for a walk. Then when we came back, my daughter was ready for a walk, so I went back out.
The day was hot, for Ireland, at 75F—yesterday was what they expect to be the hottest day of the year, at 77F—and intermittently sunny. There are just as many flowers as I remembered, and we're at the coast, so the air smells like a combination of salt and flowers. It's lovely!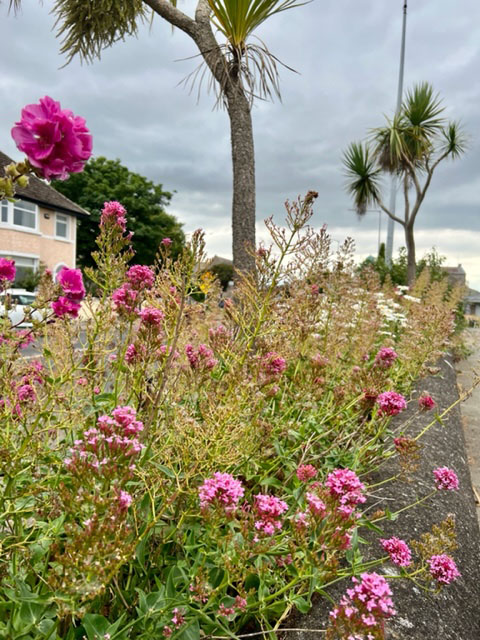 The flowers here have more of a "late summer" look than they will until about August at home. That makes a certain amount of sense, since here they still consider the seasons to begin on the cross-quarter dates, about 6 weeks before the solstices and equinoxes. So summer began on May 1, autumn will begin on August 1, and Halloween marks the beginning of winter, and spring will begin on February 1. It's traditional, and also accurate for the weather here.
But interestingly, the berries at home are beginning to ripen now, and may be past by the time we get home. Here they're still flowering; they'll start ripening in a few weeks, slowly, and will still be around at Halloween.
We had a little rest, then ordered some Indian food for delivery. They said it would take 40-60 minutes to be delivered, so my daughter and I decided to walk to the nearby SuperValu to pick up some tea bags so we could make chai.
The store turned out to be twice as far away as we thought, the food arrived while we were there, and then we practically ran back to get to the food while it was still hot.
Hot, it was, but a bit disappointing. I'm pretty sure we'd ordered from a specific other Indian restaurant last time, but that one now listed peanuts as an allergen on their menu, so we opted for this one instead. The food was okay, but not as good as what we'd had last time. Oh well.
Now it's 9pm here and we're trying to stay awake till sunset, which isn't till 9:48 here, about an hour later than at home in Virginia. Sunrise is at 5:10 tomorrow, about an hour earlier than at home, but we don't plan to be up to see it!