We spent a pleasant week in Glencolmcille village in lovely County Donegal.
Last Friday we arrived in Glencolmcille, got in just under the wire for Italian food, and retired gratefully to our B&B for a night's sleep. Not a great night's sleep, unfortunately, since someone in another room was snoring so loudly that it kept us awake. Oh well.
After a good breakfast, we chatted a bit with a couple of other B&B guests, then headed out. But on the way out I discovered something really fascinating to me: The International Appalachian Trail.
Of course, I'm well aware of the Appalachian Trail in the US. It runs through my end of Virginia on its way between Georgia and Maine, and I've hiked on a few bits of it.
And I'm aware that, as Wikipedia says, "Geological evidence shows that the Appalachian Mountains, certain mountains of Western Europe, and the Anti-Atlas range in North Africa are parts of the ancient Central Pangean Mountains."
But I had no idea that there was an "International Appalachian Trail," or that it runs through Ulster in Ireland. And in fact, a section of the IAT runs right by Glencolmcille.
Unfortunately, my is ankle still hurt. (I injured it at the Salem Fair on July 3rd because I wasn't looking where I was going.) So I can't really go hill-walking here right now. Maybe on another trip!
Anyway, we spent several hours in the neighboring town of Carrick. It's a bit larger, with a wider variety of restaurants. Disappointingly, though, the Indian restaurant seems to be out of business. There's also a lovely riverwalk lined with wildflowers, where we spent most of our time. There's a bit of the river near the bridge at the far end of the path that is just absolutely ridiculously gorgeous.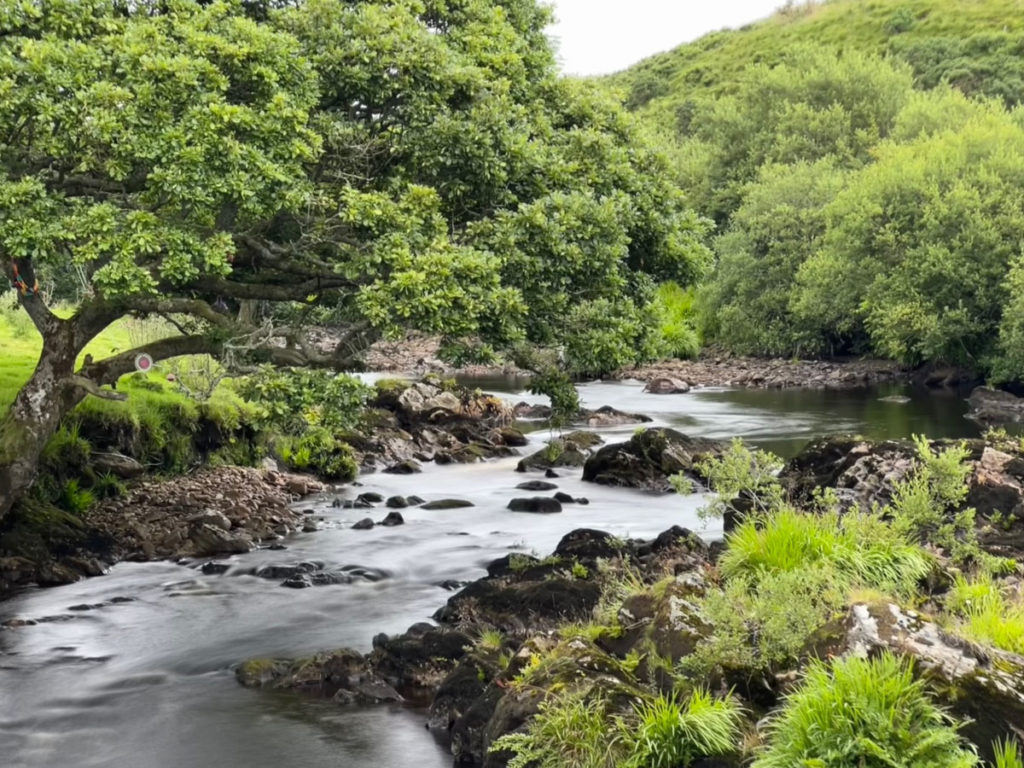 After our walk and lunch, we went back to Glencolmcille and checked into our Airbnb for the next two weeks.
There's a fish-and-chip stand across from (and owned by the same people as) one of the local pubs. So for dinner we got fish and chips from the stand and ate them in the pub. (With Guiness for Warren and a cider for me.) The chips were just okay but the fish was outstanding. That seems to be a pattern. I think I just prefer American-style "French fries" I'm used to, over the style of chips that are popular here.
On Sunday we drove all the way to Letterkenny (about 90 minutes each way). For one thing, we should've gotten Irish SIMs for three of our phones at the airport instead of just two. For another, our Airbnb has no wifi. So we went to the Three wireless store to get another phone SIM, plus a cheap little mobile wireless router and a SIM for it. Also, there's a Tesco in the same chopping center, so we bought groceries for the week. Tesco is by far my favorite supermarket chain. I really wish we had them in the US!
My daughter and I spent the week taking Irish language classes (me) and harp classes (her). My husband and granddaughter spent the week puttering around, and occasionally going to one of the bigger towns for lunch and shopping. And doing stuff on their computers–we've had to top up the 30GB broadband twice already.
The week included a concert, a night at the pub, and a talent show. Saturday we made another grocery run before attending orientation for the upcoming week of Language and Culture School.
One of the highlights of our week was the way that the local sheep would occasionally escape from their fields and wander into our yard in the evening. They're so fluffy!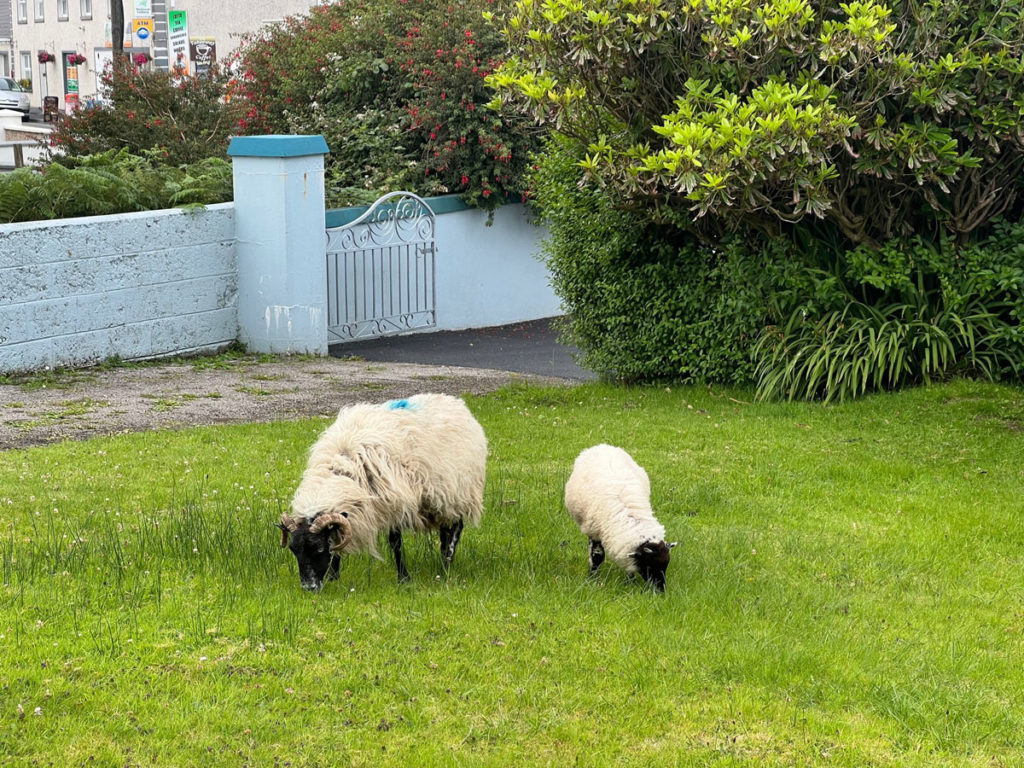 We mostly spent Sunday relaxing, working on blog posts, and studying Irish, with an awesome concert by Clann Mhic Ruarí in the evening. There were just a couple hours of Irish language class in the afternoon. I'm trying Level 2 this week (up from Level 1 last week), and it's definitely going to be a challenge for me!