Messy closet? Too many clothes, nothing to wear? Suitcase overstuffed? A capsule wardrobe can solve these problems, with pieces to help you look & feel good.
In the past several years, I've come to know and love the concept of the capsule wardrobe. Before that, I never really had an intentional or curated wardrobe, I just had a bunch of clothes that I acquired semi-randomly and didn't give too much thought.
Why a Capsule Wardrobe?
Is your closet a mess? Too many clothes, but nothing to wear? A capsule wardrobe might be the solution to your problem.
If you're traveling, are your suitcases overstuffed? Or did you pack really lightly and then find that you just don't have appropriate clothes for some situations? Again, a carefully chosen capsule wardrobe can solve these problems.
What is a Capsule Wardrobe?
Basically, a capsule wardrobe has just enough carefully chosen pieces that work together to help you dress appropriately and look and feel good in every situation.
"This term was coined in the 70s by Susie Faux, a London boutique owner and popularised in 1985, by designer Donna Karan. The theory is to have a wardrobe of minimal, classic pieces that mix and match to form a wide variety of outfits. . . . By choosing classic, well-made wardrobe items as a neutral base, you can change your entire look by adding a few simple accent pieces. A capsule wardrobe helps you define your personal style while making both shopping and getting dressed in the morning much easier. Not to mention this minimalist outlook is better for the environment and our wallets."

—Start Here – The Vivienne Files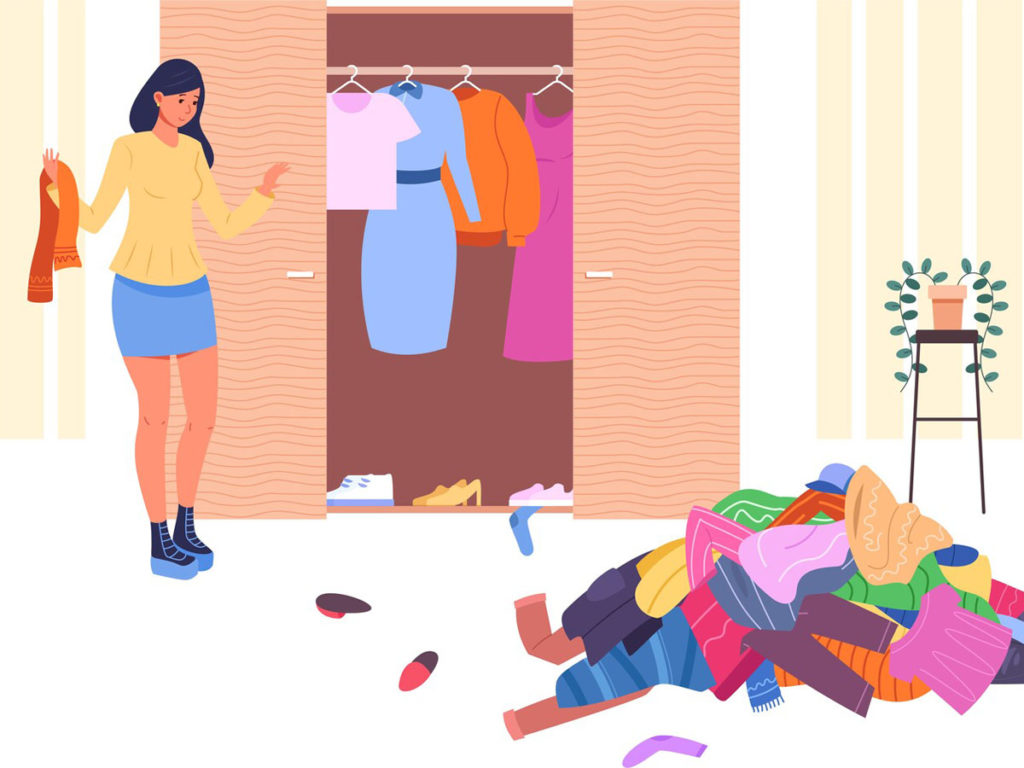 How many pieces? And what are they?
A capsule wardrobe may consist of as few as 6 pieces or as many as 37. Most capsule wardrobe formulas are oddly specific and prescriptive.
There are lots of different recommendations, but a typical capsule for one season might contain 2-3 bottoms, 3-7 tops, a dress, and some outerwear. Shoes and accessories are carefully chosen but often are not counted in the number of pieces.
How to Build a Capsule Wardrobe?
To figure out what you need, think about:
Your daily activities. Business office? Work at home? Gardening? Gym?
Weekly activities. Date night? Hiking? Church?
The climate and weather where you spend your time. Hot? Cold? Wet? Dry? Mixed?
Your preferences. All skirts? None? Dressy? Casual? Comfortable? Easy care? Wrinkle resistant? Sweat wicking? Quick drying?
What Colors, and How Do I Pick Them?
The first step, of course, is to figure out what colors look good on you. You probably have some sense of that!
If you're unsure, you can use a site such as colorwise.me, that will help you figure out what colors will look best on you based on the warm or cool undertones in your skin.
(Also, if you're unsure what styles look good on you, check out style guru Missus Smarty Pants. She will teach you so much about the importance of the cut and fit of clothing, as well as which styles are most flattering for your body type.)
Remember, too, that the colors that look best on you can change somewhat over time.
Black has always been my neutral of choice but as I get older black near my face starts to look a little harsh, so now I'm adding in some grey. I still love black, though, and if it looks too harsh near my face I can wear a scarf in a different color to soften the effect.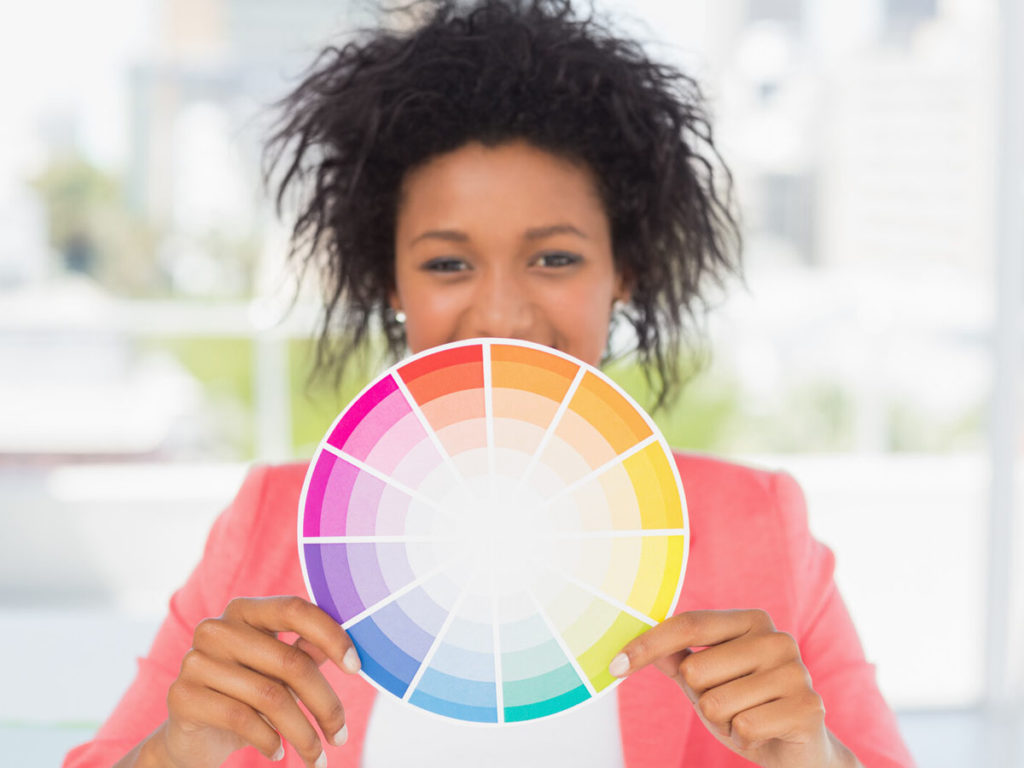 Neutral? Monochromatic? Colorful?
As far as choosing the colors for a capsule, some people will go for all neutrals, or neutrals and just one color. I learned from experience that that is not for me—I tried both of those approaches and after living with them for a few months, I found them terribly boring.
My first summer capsule used tops that were nearly all in different shades of turquoise and aqua. I love those colors, but after a month of using that capsule while traveling, I was pretty darn sick of turquoise!
My first winter capsule was worse, since all my tops were neutrals—black, grey, and navy. After a couple of months of that I felt like I was literally starving for color! I ended up buying a blue sweater, a purple top, and an aqua one.
Unless you already have and love a neutral or monochromatic wardrobe, I'd really suggest bottoms in at least two different neutrals (black and denim, chocolate and khaki, navy and grey, whatever works for you), and tops in your two favorite color families (preferably ones that don't clash with each other).
The Vivienne Files is my favorite capsule-wardrobe site. Instead of sticking with neutrals or a monochromatic palette, she'll often start with a pretty scarf and build a wardrobe in those colors. She also puts a lot more emphasis than most on building a wardrobe that is well balanced, and versatile. And her capsules are pretty—much more aesthetically appealing than many of the bland capsules out there.
For a really in-depth look at exactly how to do it her way, check out How to Build a Capsule Wardrobe: Starting From Scratch – First Steps – The Vivienne Files.
What does a capsule wardrobe look like?
Here's a sample for you. I own (and love) about half of these pieces (and have definitely considered the rest).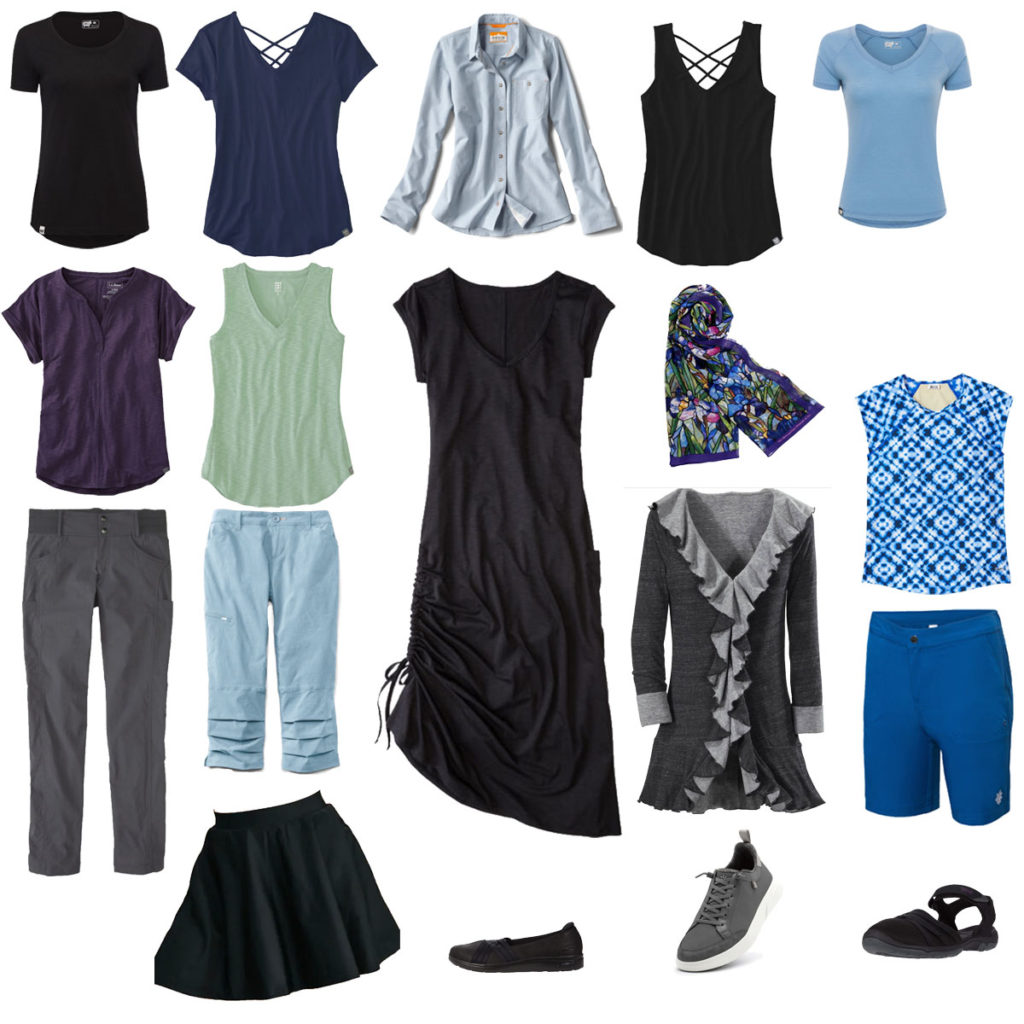 Wuru Wool Merino Short-Sleeve and V-Neck; Title Nine Yasumi Short-Sleeve Top and Tank, Henerala Tank, Clamber Pants (also in Long and Short), and Drench Midi Dress (dress is sold out for the season; find a somewhat similar one here); LL Bean Streamside Split-Neck Short-Sleeve; Orvis Tech Chambray Shirt and Jackson Quick-Dry Capris; Honey Mark Sugar Skort; Duluth Trading Suit Up Cap Sleeve Swim Top; UV Skinz Women's Board Shorts; Pyramid Collection Reversible Hooded Jacket; Tropicfeel Geyser Litli Waterproof Sneakers; Skechers Performance Arch Fit Uplift Flats; Teva Tirra CT Sandals; Metropolitan Museum of Art Tiffany Iris Silk Scarf.
How many outfits does that make?
"Like eight?" No!
More than 20!
And that's not even counting the combinations with different shoes and with and without the jacket (which is reversible), scarf, etc., or using the button-down shirt as an extra layer. And the swim top and board shorts are versatile enough that you could add them to the mix and have 11 more outfits. (Plus, the skort doubles as a swim skort!)
Yes. Since everything works together, you could literally go for over a month without repeating the same outfit, and all from only 18 pieces (just 12 if you don't count the swimsuit, scarf, and shoes)!
This is the magic of the capsule wardrobe!