Here's an in-depth look at what I've learned from creating and living with capsule wardrobes.
I've written about the magic of capsule wardrobes, and I'll write some posts giving specific examples of how to create them in the future. There are a million articles out there about how to create a capsule wardrobe. Instead of rehashing them, or reinventing the wheel, in this post I'm going to share my own practical experience. This is an in-depth look at things I've learned from creating–and living with–capsule wardrobes.
Be patient and be selective!
Presumably you're not walking around naked right now! You've got clothes that you're already wearing. Keep your favorites for sure, and keep enough of the rest that you don't HAVE to buy replacement items until you find really good ones. Expect the process to take months, even a year or more.
Make a capsule from clothes you already own.
A good way to test the concept is to to make a capsule from your current wardrobe. Simply select the items you want in your capsule, and pack away the rest. This will let you see what you really need/don't need, like/don't like, and use/don't use. It also lets you try out advice that you're unsure of—or that sounds great but may not work out as well for you. And it shows you which of your current clothes you'd miss if you got rid of.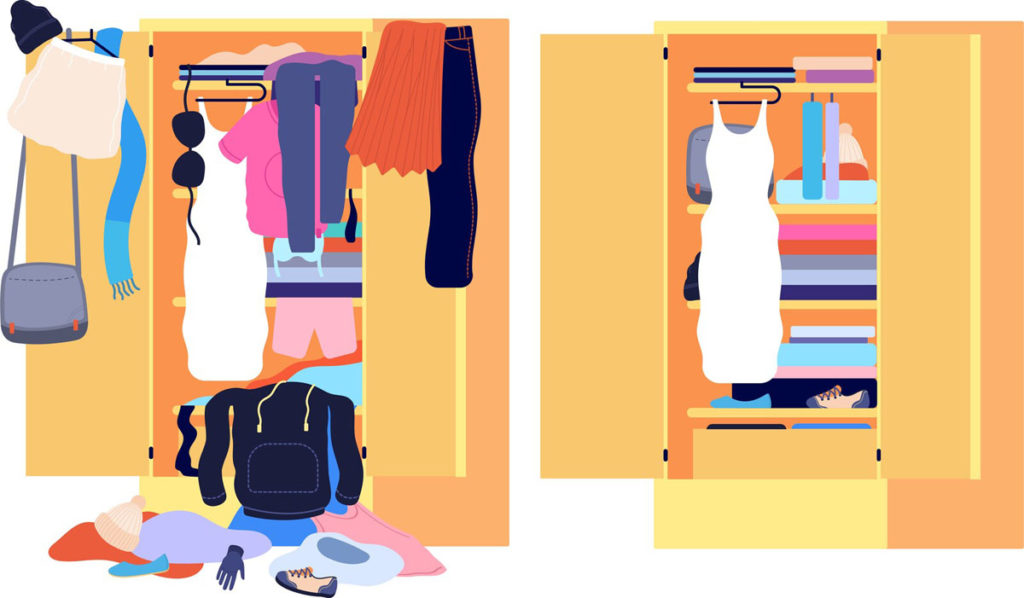 Really think about what you want out of your clothing.
I'm pretty active, plus I have hot flashes. So at this point in my life I want most of my clothes to be wicking and quick-drying as well as comfortable. I want all my shoes to be comfortable for walking all day. And waterproof or water-resistant (or water-friendly, in the case of sandals), because I hate having wet feet. And I want to be able to throw all my clothes in the washer and dryer. I try not to buy things that will shrink if I forget to pull them out before drying. I don't want anything that I have to iron. And I won't buy anything that's "dry clean only" except maybe a fancy special-occasion dress.
You'll have your own priorities and preferences.
Maybe you hang all your clothes out to dry. Maybe you don't mind ironing a few things. Maybe you have to dress up for business every day and a trip to the dry cleaners is part of your weekly routine. Maybe you want clothes that don't wrinkle, or don't show stains.
Maybe you really care about designer labels and have either the budget to buy them outright or the patience to bargain-hunt for them. Or maybe you're on a tight budget and affordability is very important, even though you're wanting to favor quality over quantity.
What you want from your clothes will help determine where you'll need to shop, so really think it through.
Buy the best quality you can afford.
Buying clothes can get pricey very quickly, so set a budget and stick to it. Building a capsule wardrobe will take awhile, so don't be afraid to save up for awhile to buy better items. Whether you have all the disposable cash you need or whether you're shopping at Target and secondhand stores (where you can absolutely find some excellent items) for just a couple of items at a time, try to buy things that are well-made and will stand the test of time. Part of the point of a capsule wardrobe is to choose quality over quantity.
Buy only items you love, love, LOVE.
If you're going to have fewer items and wear them more often, you need to LOVE the ones you have. We all have those favorite items that we reach for so often, pushing aside other clothes that we just don't like as much. Ideally, you want to end up with a capsule that's basically all "favorites."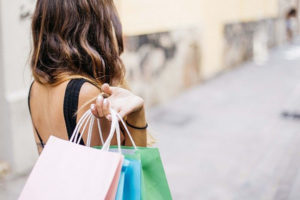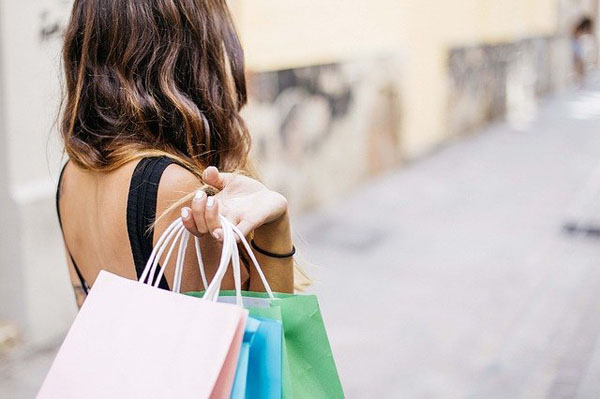 Do not buy an item just to fill a slot on your wardrobe list, thinking "well, I like this okay, I guess it'll do."
Even if the quality of the item is excellent, if it is uncomfortable, unflattering, not your color, doesn't do what you want, requires too much special care for you to fool with, or otherwise just isn't great, don't buy it. You'll grow to hate it and resent the money you wasted on it.
If you don't love it, don't bring it home. If you're shopping online, and don't love it once you try it on, send it back!
Be skeptical of the lists and advice you find online.
Take them for what they're worth, but realize that you will need to customize it to suit your lifestyle, taste, and preferences. A very prescriptive list provides a very concrete framework, which may make it easier to get started. But the more prescriptive it is, the more you'll need to customize it.
What do you really need to wear for work and/or your other daily and weekly activities? Do you go work in an office Monday through Friday? Do you work in retail or fast food? Are you a work-at-home mom? What do you do on your time off? Do you need clothes for the gym, dojo, dance studio, or hiking trail? Or for gardening? Or just chilling at home?
Do you ever need dressy clothes, and if so what kind? Business, date night, cocktail dresses, clubbing clothes? What is the weather like where you live? Hot, cold, temperate, wet, or wildly variable by season? Do you wear skirts all the time? Avoid them at all costs? Or wear them half the time? What about jeans? Do you hate white clothes because they never stay clean? Or love them because you can bleach them?
There are a lot of variables, but you've got plenty of time to think them through.
Also, those online lists are deceptive.
They may claim to be 21 items, or 40, or less than 10! But that usually only counts tops, bottoms, sometimes jackets, maybe a swimsuit.
What else is there? Well, sleepwear, underwear, bras, socks, gym clothes, shoes, purses, scarves, belts, hats, etc. If you let the lists make you feel like you should really only have X number of items, but they're only counting certain pieces and you're thinking of all the rest too, you're bound to be frustrated and feel like you have "too much stuff."
If you really get hung up on that, it might help you to make multiple capsules—seasonal capsules, gym capsule, loungewear capsule, hobby capsules, undergarment capsule, etc.
And how many bras and underwear do you need? Only you can answer that question. Maybe you only want two of each—one to wash and one to wear. Maybe the often-recommended 3 bras and 7 pairs of underwear is perfect for you. Maybe you need 7 sports bras and 14 pairs of undies. Maybe you burned your bra and go commando. You do you!
Neutrals or monochromatic?
A lot of the capsules you find online are very heavy on neutrals and/or very monochromatic. I saw such a perfect example of this in my Pinterest feed this morning that I was tempted to take a screenshot and put it in this post, but I didn't want to use someone else's pin like that. It was a perfectly functional 40-piece 4-season capsule wardrobe. Every single item was either black, white, grey, or denim. For those who like that sort of thing, it's just the sort of thing they like. But I'd die of boredom.
My first summer capsule used tops that were nearly all different shades of turquoise and aqua. I love those colors, but after a month of using that capsule while traveling, I was pretty darn sick of turquoise!
My first winter capsule was worse, since all my tops were neutrals—black, grey, and navy. After a couple of months of that I felt like I was literally starving for color! I ended up buying a blue sweater, a purple top, and (yes) an aqua one.
Unless you already have and love a neutral or monochromatic wardrobe, I'd really suggest bottoms in at least two different neutrals (black and denim, chocolate and khaki, navy and grey, whatever works for you), and tops in your two favorite color families (preferably ones that don't clash with each other).
You may find that you love wearing all neutrals or love having a monochromatic wardrobe, and your color preferences may be very different than mine. But this is one of the reasons that I really suggest trying it out with items you already own.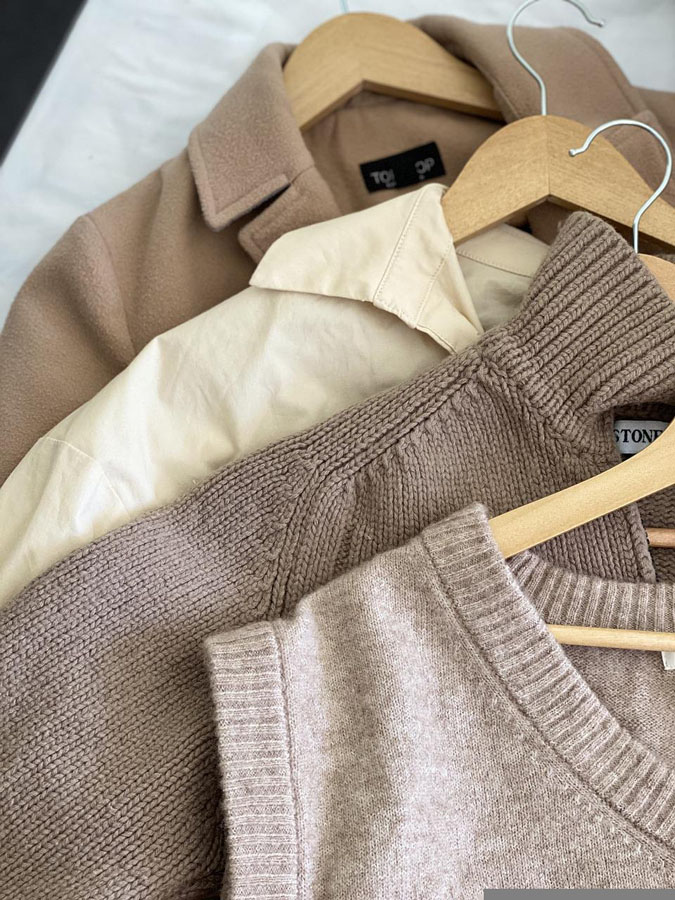 Also, most of the capsules online are deliberately very generic.
That black/white/grey/denim one I saw this morning? Every piece was also incredibly basic, generic, and neutral in style. "Classic" to some, "boring" to others.
But when you build yours, be sure to consider and express your own sense of style!
"Your clothing is about representing yourself completely and accurately to the rest of the world, not about becoming something you're not in an attempt to fit in."

The Vivienne Files
The first capsules I built for myself were practical, presentable, and versatile; aside from a few misfires, they were reasonably flattering, comfortable, and did what I needed them to do. They were also very boring!
It's true that I needed more color, but that wasn't the only issue. Since I don't think of myself as very "girly," I didn't bother choosing anything "feminine" or "pretty." And I don't think of myself as a fashionista, so I concentrated on practicality and comfort to the virtual exclusion of style and self-expression. This, in addition to the color issues, made for some very boring capsules.
Balance practicality with your own style and preferences, and try to build in some variety. Just because the lists are generic, that doesn't mean your wardrobe should be—it definitely shouldn't!
I love this quote from The Vivienne Files: "Your clothing is about representing yourself completely and accurately to the rest of the world, not about becoming something you're not in an attempt to fit in."
Use the technological tools available to you.
Use Pinterest, or an app such as Stylebook, to build a "virtual capsule" to play around with. But before you buy a bunch of new clothes or get rid of a bunch of your current clothes or do anything else drastic, try creating real-life capsules with the clothes you already have.
The capsule wardrobe concept can be very exciting when you discover it, and especially if you have the budget for a shopping spree, you may be tempted to chuck everything and start fresh. DON'T DO IT.
Even doing it over time you're bound to make mistakes, but they'll be much more expensive and painful if you try to jump in and do it all at once. Instead, as suggested above, try creating capsules from what you already have. Of course, this works best if you currently have too much stuff rather than not enough. If you already know you need a certain item, go ahead and start looking for it while you experiment with the concept.
Special notes for travelers.
If you are putting together a travel capsule, I wouldn't suggest putting anything in it that you'd never wear at home. (Though if you're going anywhere that the temperatures will drop down near or below freezing, I really would suggest packing at least a lightweight baselayer/thermals, whether merino or synthetic.)
A special vest with a million pockets may be useful for fishing, but if you'd never wear it in your daily life, you probably don't need it for travel. (If you want one, at least get one that's presentable, such as the Ex Officio FlyQ.)
That goes double for convertible pants, which are probably the worst offenders you'll see on those "travel capsule" lists—if you don't like them enough to wear them at home, you won't want to wear them while you're traveling, either. The ones that roll up to capris are probably better than the ones that zip off, as far as that goes. If you really like them, try the Pickpocket Proof ones.
I've found that the only ones I actually like are ones like the Kuhl Trekr pants with shirring that lets you turn them into capris without awkwardly rolling them up, and the Decathlon Forclaz Zip-Off Hiking Pants, which have a less bulky fit, zip off to the below-the-knee length I favor, and just generally look less "outdorky" than most.
Those shirts that have long sleeves that roll up into short ones are practical, if you actually like them; most are pretty standard but if you look around there are a couple of different styles (tunics vs. shirts, visible vs. hidden pockets, etc.), and you'll like some better than others.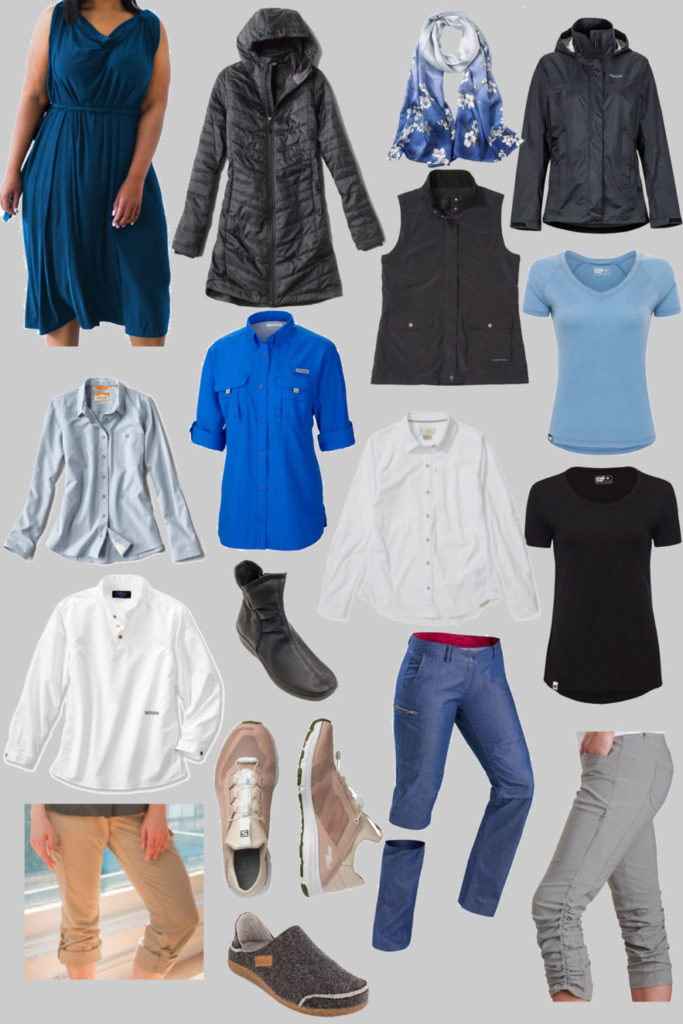 Merino clothes, while expensive, really ARE all they're cracked up to be, and they're generally not itchy. But a few people have a sensitivity to wool that will make them itch, so you'll want to be sure you don't have that problem before investing heavily in them.
Some shoes are better for travel than others. Try ones that are lightweight, comfortable, and collapsible, such as Arcopedico L19 boots, Salomon Amphib running shoes, and Taos Convertawool slip-ons.
Packable coats and raincoats will definitely save weight and space in your luggage.
The Encircled Chrysalis Cardi, which converts to everything from a scarf to a dress and everything in between, seems intriguing. So far, however, I haven't been able to convince myself that I would really love it and use it.
A pretty silk scarf will pull it all together. And do take a Turkish towel. But in general, especially If this is your first long-term trip, concentrate less on what the internet says "travelers" wear and more on practical clothes that YOU will wear and love.
Also, I just want to take a second to acknowledge the irony of the fact that the capsule wardrobe graphic I created, above, is pretty much all black, white, and blue, like the one I was picking on a few paragraphs ago. I do like the brighter blues in it. But if it were for me, I'd choose a different scarf with more colors so that I could vary the colors of the tops. I'd probably try to find a couple in different shades of purple.
Expect your capsules to evolve over time.
Despite all of your best efforts, some things may not work out as well as you hoped, some things may turn out to be unnecessary. Things will eventually wear out, you may realize you need some items that weren't on your list, etc. That's fine! Just roll with it. This is extra true with travel wardrobes. Bring the basics, but be open to buying a few things at your destination. You may find a cute swimsuit or sarong or flip-flops, an irresistible scarf or jewelry, or the perfect warm sweater or mittens—especially if the weather turns out to be significantly hotter or colder than you expected.
Another special note for long-term travel: While you're traveling, be willing to ditch any clothes that just aren't working for you. Those pants that turned out to wrinkle SO BADLY. That heavy wool sweater that starts to itch after five minutes. That shirt that you originally liked but now hate. The item that's falling apart from wear and tear on this trip, or the one that you thought would be perfect when you bought it but it just super ISN'T. If you can get by without them, just go ahead and donate them to a local charity. You'll feel better and lighter, and have room to pick up something great when you stumble onto it. And I speak from experience.
Remember that the "capsule wardrobe" concept is a great tool, but it's not the boss of you!
If you have favorite clothes that fit well and are flattering and you wear them and love them, never get rid of them just because they don't fit in the "capsule."
Also, don't get rid of beloved special-occasion items just because there isn't a slot for them in the capsule list. Maybe you only wear that sparkly dress once every couple of years. But if it fits and you love it there's no point in getting rid of it only to have to search for a replacement for the next "occasion."
OTOH if you have the budget, it's a great excuse to get rid of items that you seldom wear and don't love but stubbornly won't replace because "well, I have that one I can wear and it's o-kay."
Let me say it again: By all means get rid of clothes you don't love, but never get rid of ones you wear and love just because they don't fit the "capsule."
Questions or suggestions? Leave a comment below!