We made our way down to Bunratty and then back across Ireland to Dublin, visiting lots of places on the way.
A Waterfall, a Mountain, Castles, Abbeys, and More
After our two weeks at Irish summer school, we were ready to move on. Our next stay was two nights in Bunratty, in County Clare. But we made a couple of stops along the way, inspired by poetry and music.
Glencar Waterfall
First, we stopped at Glencar Waterfall, immortalized by W. B. Yeats in his poem "The Stolen Child." Glencar Waterfall is near Glencar Lough. It's in County Leitrim, but quite near the border of County Sligo. Unlike in Yeats' day, there's a car park, picnic area, public toilets, children's playground, café, and Tourist Information.
Where the wandering water gushes

From the hills above Glen-Car,

In pools among the rushes

That scarce could bathe a star…

–W. B. Yeats, "The Stolen Child"
Signage at the waterfall says "it can be a gushing torrent or a gentle trickle, depending on when you visit." It was definitely a gushing torrent when we were there–not much like we'd pictured it based on the poem. (There are other waterfalls in the area, and we later spotted one at the top of a cliff that we thought looked a more likely candidate.)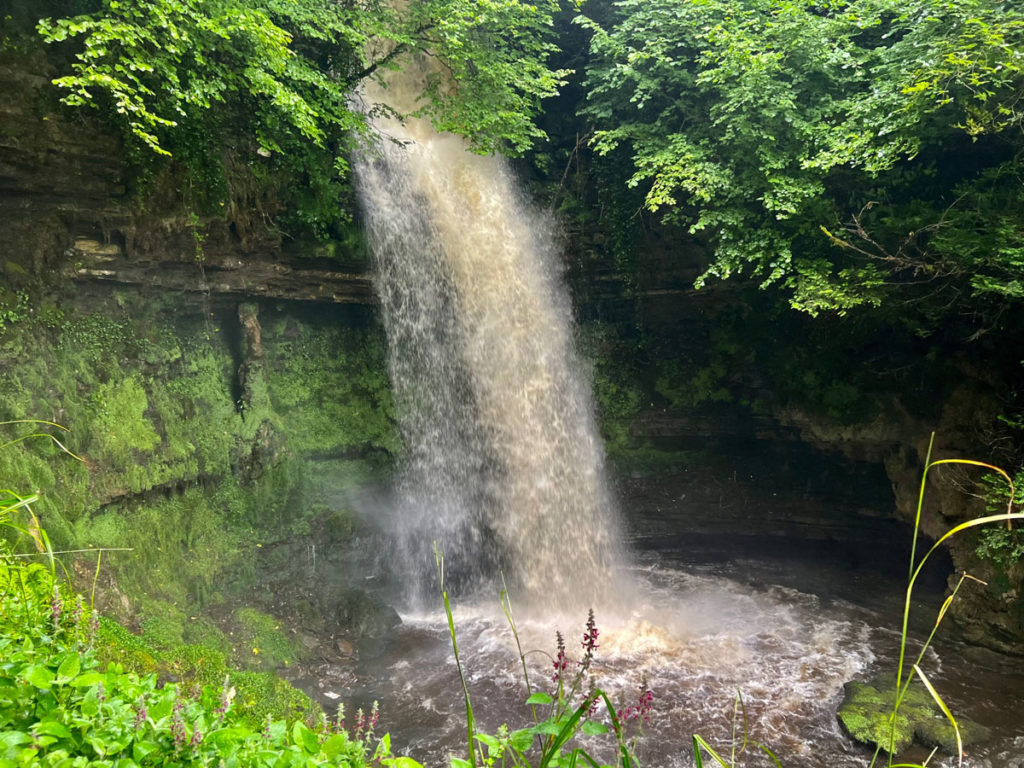 But the short walk to the waterfall, the waterfall itself, and the loop back to the parking lot are absolutely gorgeous. It was actually one of my favorite places that we visited on this trip.
Knocknarea & Maeve's Cairn
About a half-hour drive from Glencar Waterfall, in County Sligo, is Knocknarea (pronounced "nock-na-ray"). Cnoc na Riabh or Knocknarea is a large hill (over 1,000 feet high–and walking up it, it feels like a mountain!). At its summit is a large cairn known as Maeve's Cairn, supposedly the tomb of the warrior queen Maeve. My daughter and I love Cathie Ryan's beautiful song "At the Foot of Knocknarea," and we were excited to realize that we could actually go climb up to Maeve's Cairn.
There's a 6km looped trail with three different access points. We found our way to the Knocknarea Car Park, Glen Rd., Co. Sligo. (Note that there is a coffee truck but no toilets, so we were glad we'd used the ones near the waterfall.) From there, you can also access the shorter trail that leads straight up to the cairn. It's about 1.3km, with 200m gain in elevation. That's what we did.
The song begins,
At the foot of Knocknarea I pick up a stone

To carry to the top with all my troubles.

I'll lay it on Maeve's cairn high upon that mound.

Stone upon hard stone I'll lay it down.

–Cathie Ryan, "At the Foot of Knocknarea"
However, signage onsite makes it clear that visitors must not add or remove stones. So while I picked up a tiny pebble near the bottom, I placed it near but not on the cairn at the top.
The cairn itself is a protected National Monument. People have caused issues by climbing it, moving stones, etc. Do NOT do that! Not only is it disrespectful and damaging, local lore holds that it could incur bad luck or even a curse. Just walk around it on the path!
Signage also notes: "This trail is physically demanding, includes some sections with steep climbs and the terrain underfoot can be rough and slippery. The trail is suitable for users accustomed to walking on rough ground and with a high level of fitness. It should be noted that this path traverses mountain terrain and can be subject to rapidly changing weather conditions including cloud cover, mist, fog and high winds. Extreme caution should be exercised during such weather and in this context walkers are advised to remain upon designated paths and to turn back in case of any doubt."
We were lucky when we were there, in that it was foggy but not wet. We're all in pretty good shape, and we were all able to climb it, with rest stops and some huffing and puffing. Since my ankle was still hurt, I was glad that I had taped it that morning. I did rather wish that I had trekking poles or at least a good sturdy walking stick. (We met one hiker who was using a trekking pole, and she said it really did help.) It was steep and rocky and would be very slick and dangerous in the rain. We definitely wouldn't have attempted it in the rain.
The views are spectacular, though. If you're up for the climb and you get there on a dry day, go for it! (But definitely dress properly, wear good hiking shoes/boots, and carry a daypack with the Ten Essentials.)
The climb back down, while also steep, was at least less strenuous. Then it was back into the car, for the 2.5-hour drive down to Bunratty. (No time for the side trip I'd hoped to make into Galway City, but I'd been pretty sure that was over-ambitious, anyway.)
Bunratty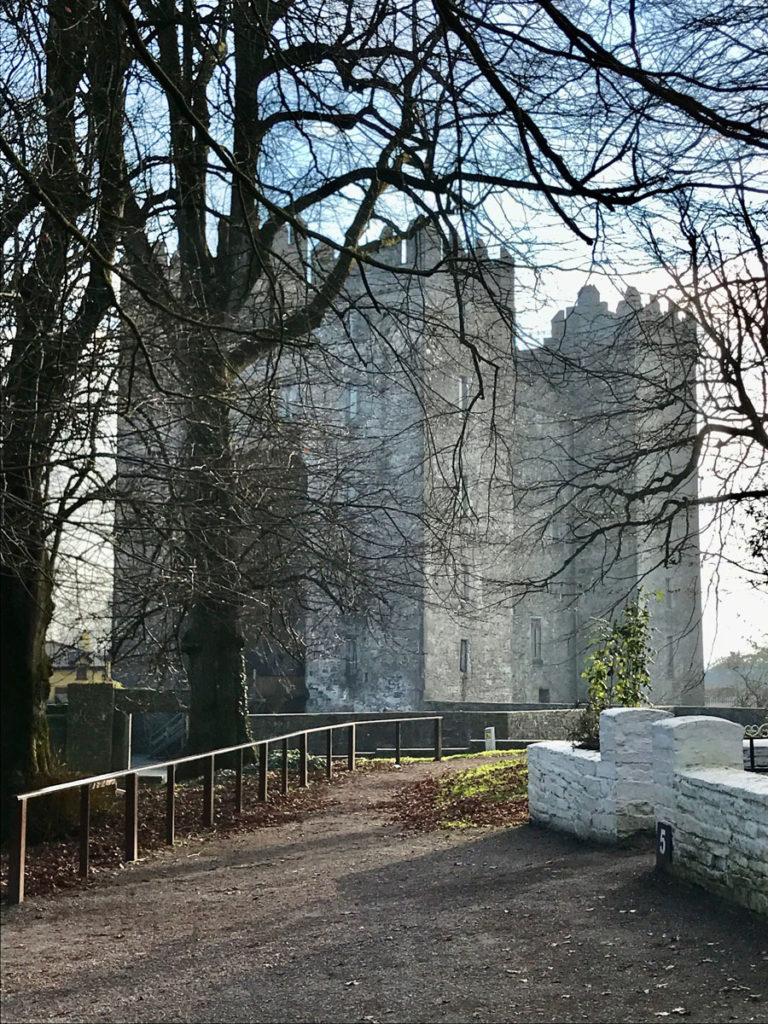 I mentioned Bunratty as one of my Top 5+ Things to Do in Ireland, and I stand by that. Bunratty is excellent. Unfortunately, I didn't have a great visit this time, largely due to my third-ever migraine, triggered by the overly-scented laundry detergent used on the linens at our Airbnb.
Pro Tip for Airbnb Hosts: Use unscented laundry detergent for the benefit of your guests with sensitivities!
So rather than being able to give you a rapturous description of how great it was, let me just repeat what I wrote a few weeks ago: Bunratty Castle and Folk Park, Bunratty, County Clare. A 26-acre "Folk Park," or outdoor museum, surrounds the castle. The Folk Park includes a village street and farmhouses from the early 1900s, a petting zoo with heritage breeds, a charming fairy trail, a Viking-themed playground, and a lovely Regency Walled Garden. The castle itself is billed as "The most complete and authentic castle in Ireland"; the current castle is the fourth one built on the same site, and was built in 1425.
I will add a few details, though. We previously visited the Folk Park in January. As far as I recall, on that visit only the main gift shop and café in the Visitor Center were open. This time, far more shops were open, as well as more places to eat. There were also far more people, of course.
On this visit we attended a banquet at the castle. I was afraid it would have a cheesy, "Medieval Times" vibe (which can be fun, but isn't what one wants at an actual castle). It wasn't like that. The entertainers delivered bits of history interlaced with good humor and good music and singing. They took their jobs seriously without taking themselves too seriously.
County Tipperary
The Rock of Cashel and Hore Abbey
After two nights in Bunratty, we moved on to County Tipperary. After lunch in the town of Cashel, we went up to the Rock of Cashel. Somehow we were all a bit confused and had thought it was a castle. While it had been the seat of the kings of Munster and the site where Brian Boru was crowned High King, the remaining buildings on the site are mostly religious ones–a cathedral and a chapel and such. Worth a visit if you're anywhere in the area, but not what we were expecting–it turned out to be our least favorite of the places we went in County Tipperary.
Then we went to nearby Hore Abbey. It's a gorgeous ruined abbey that is literally in the middle of a cow field (watch your step on the path to it!). It's not quite as atmospheric as Muckross Abbey in Killarney, but we were surprised to find that we enjoyed it more than the Rock of Cashel itself.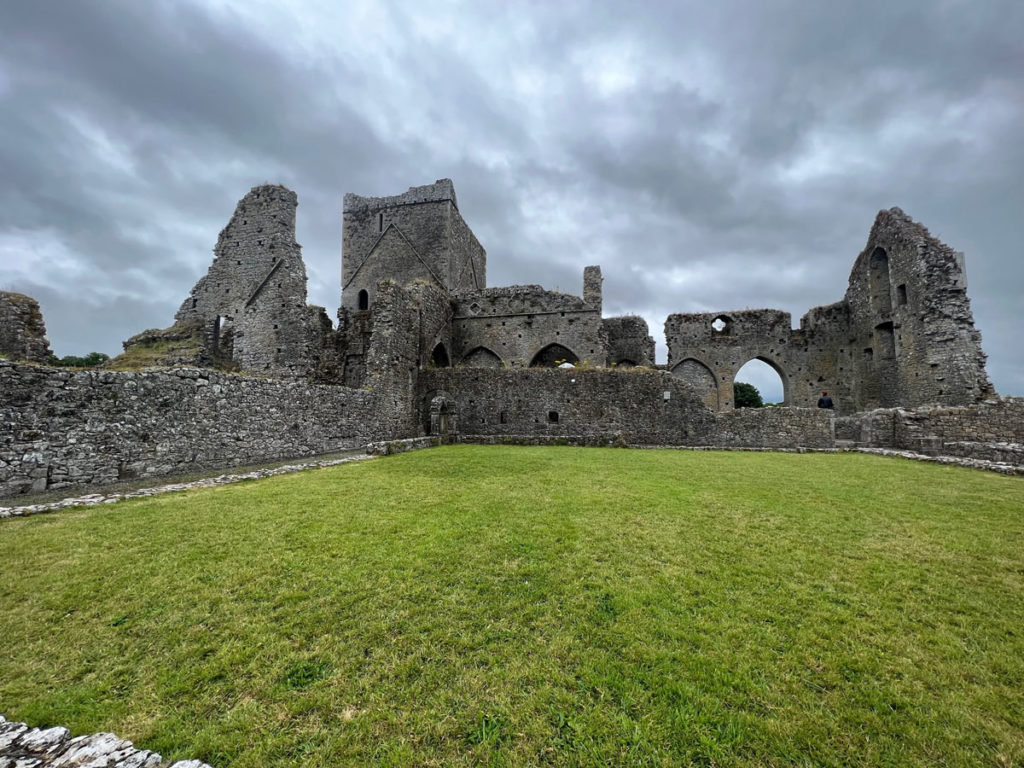 Cahir Castle and the Swiss Cottage
We spent the night in Cahir. The next morning we started with a visit to Cahir Castle. There was so much to see that we spent longer there than I'd expected.
Then we were finally on to one of the things I've most wanted to visit for years: The Swiss Cottage in Cahir. It's "a cottage orné – a fanciful realisation of an idealised countryside cottage used for picnics" and getting away from the rough life of being an Earl and his Lady, who had it built in the early 1800s. It's also one of the most beautiful houses I've ever seen; it absolutely makes my heart sing. If I ever win a zillion dollars in the lottery, I'm going to build something that looks very much like the Swiss Cottage. (But probably more than 4 rooms, and with bathrooms and a kitchen.)
You can walk around the outside freely; to go inside you have to be on one of the guided tours, which are also free, and run every half hour. Photography isn't allowed inside, so I don't have any photos of the interior. I literally turned my phone all the way off before we went in, because I didn't think I could resist the temptation otherwise.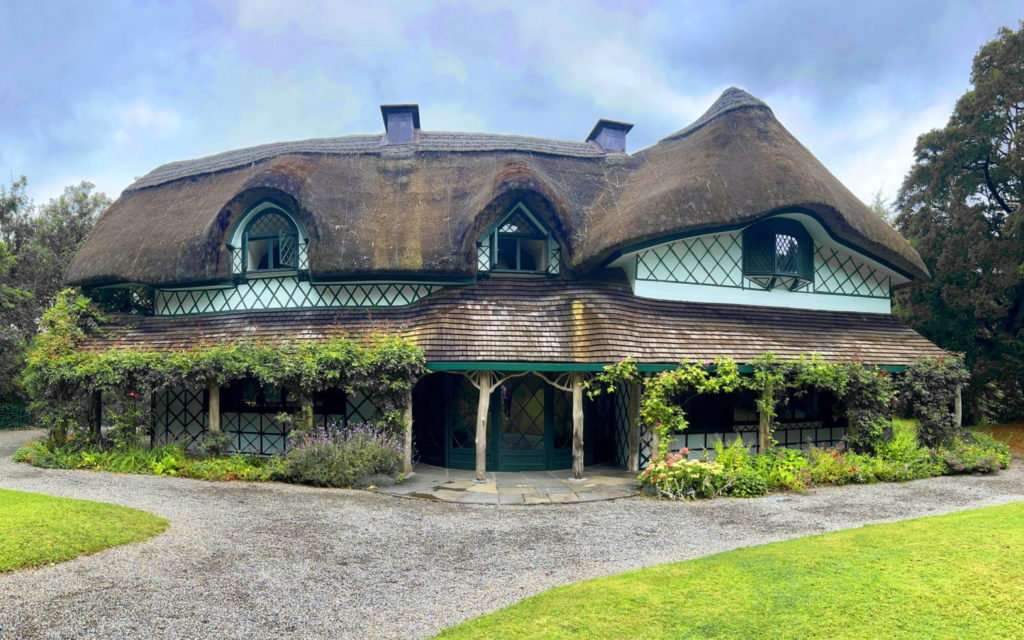 Wexford
After lunch, we headed to Wexford, to go into town and meet friends for dinner.
Wexford is a nice town with a lot of cute shops and several bookstores. Just be aware that they all close at 6pm sharp.
We had dinner with our friends at Green Acres restaurant (nothing to do with the TV show of the same name), which was quite good, and an excellent change from the steady diet of pub food.
We spent the night at a "castle" B&B (more like a Country House built onto the ruin of a castle). It wasn't quite what I'd expected, based on both the website and the recommendation of friends who'd stayed there and really liked it. I'm not going to name and shame them, since perhaps our experience wasn't typical. But our rooms were musty and too hot, our beds were hard and uncomfortable, and we got a terrible night's sleep. Oh well.
The next day we visited our friends briefly at their lovely house and garden, then went back into town for some more shopping (mostly bookstores) before venturing into Dublin for our final night before flying home.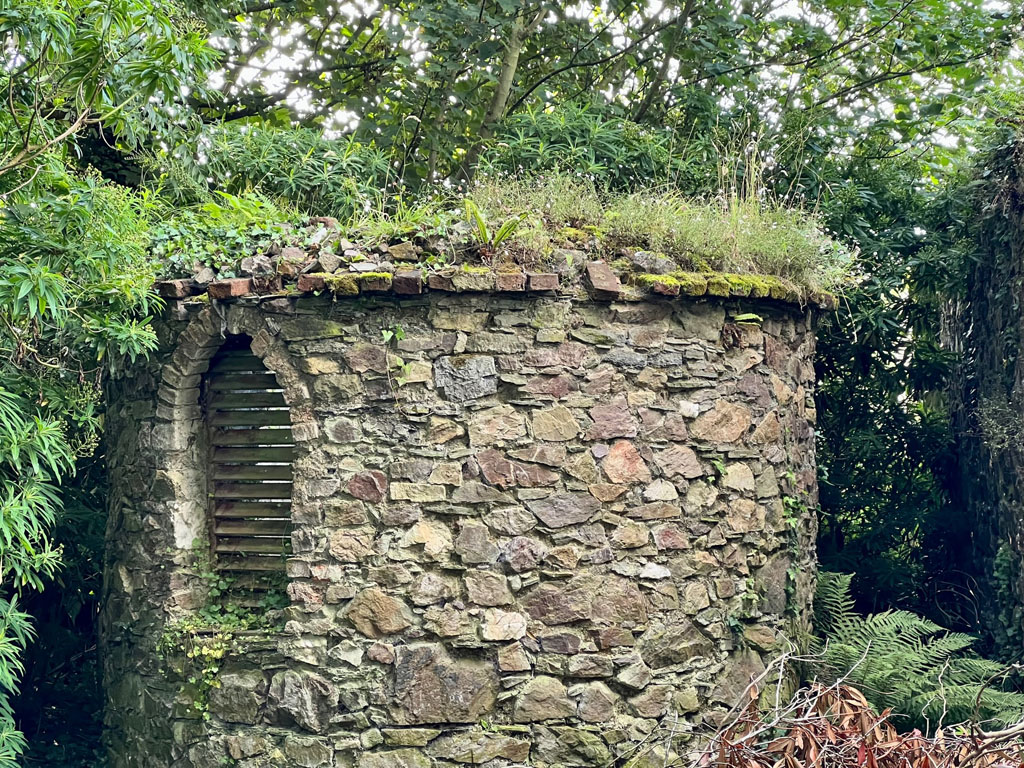 Dublin and the Flight Home
We were so tired that we really didn't do anything at all in Dublin except rest, repack, and get an excellent night's sleep in the extremely comfortable beds in our lovely air conditioned rooms in The Morrison Hotel. I will name and acclaim them as somewhere I would definitely stay again!
Dublin Airport had been recommending that passengers arrive exactly three hours before their international flight–no more and no less. After returning our car, we arrived at the terminal about two and a half hours before our scheduled flight time. The line for Delta check-in wasn't bad. The airport security line took about 30 minutes or a bit less. So far, so good. Then we got to US CBP Preclearance. Unbeknownst to us, they advise 3.5 hours (and as of this writing, Dublin Airport is specifying 3.5 hours for long-haul international flights, as well).
At USCBP, we went through the same security procedures again. But first we had to stand in line for an hour. A very stressful hour, since our flight was already boarding when we got in line.
They were, at least, pulling people to the head of the line so that they wouldn't miss their flights. And we didn't miss ours, which (fortunately?) left 20 minutes late. But it was very stressful.
At least we didn't have to clear Customs again in Atlanta. Our flight out of Atlanta was also an hour late departing, so we had plenty of time to make our connection. We were extremely happy when Warren's oldest daughter picked us up in Greensboro, and happier still to make it home to our cats and get a good night's sleep in our own comfortable beds.