We saw puffins (from a distance), visited the Giants Causeway, then drove to County Donegal.
7 a.m. came awfully early, but we didn't care—we were so excited because we were going to see puffins!
Rathlin Island Puffin Sanctuary
We made it to the ferry on time. It's about a 20-minute ride over to Rathlin Island. Then you pay £5 each to take the Puffin Bus over to the West Lighthouse and Puffin Sanctuary (and back). Note: this seems to be CASH ONLY, and I'm not sure whether there's an ATM on the island. You can walk if you want to, but it's 4+ miles each way, and quite steep. I don't know how long it might take to walk, but the bus ride was almost half an hour.
When we arrived at the island, it was raining—not too hard, but the wind was really blowing it in our faces. We were quite relieved that it stopped before we got to the Puffin Sanctuary. Admission there is another £5 per person, but they do take credit and debit cards there.
The visitor center has a gift shop, and a little café. There are snacks from a vending machine. I can't recommend the cookies, they weren't nearly as tasty as they looked. There's also coffee, tea, and hot chocolate. Those, I definitely recommend to warm up with when you come back up from looking at the birds). Also, there are toilets.
It's 100 stair steps, plus some distance of ramp, down to where you can see the birds. FROM A CONSIDERABLE DISTANCE.
There are tons of birds nesting there—not only puffins, but several other kinds as well. There were some gulls nesting quite close to the observation platform, but the puffins were considerably farther away.
What's nice is that they have binoculars that they lend you for free. And there's a telescope or spotting scope focused on the puffins that you can look through (also free—it's not the kind that you have to feed coins to make it work).
I did not get any good photos of puffins. They were too far away for the 3x optical zoom on my phone to make anything much out of.
Still, we enjoyed seeing the birds, and learned a couple of things we didn't know about them—for instance, they're not much bigger than my hand; somehow, I'd always pictured them as a bit larger than that!
Anyway, we were happy to go back up and warm up in the gift shop with hot beverages. If you take the Puffin Bus, you only get 1 hour up at the Puffin Sanctuary, but that's actually plenty.
We took the bus back down, and were only a few minutes early for our noon ferry back to the mainland. So, three hours is really the minimum amount of time to spend on the island. We kind of wished we'd had another hour, to check out the little museum and couple of shops, and maybe see about the lunch offerings in the garden of the Manor House.
Once again, I'm not sorry I went, and it's an item off my bucket list. But I've gotta say that there are definitely places where you can get closer to the puffins—not so close as to disturb them, but at least close enough to see them with the naked eye!
The Giant's Causeway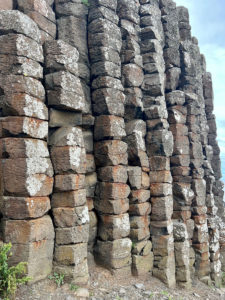 Anyway, in the afternoon we went to the Giant's Causeway. We had lunch at the Causeway Hotel next door. Then we went through the Visitor Center and down the path to the Causeway itself.
The Giant's Causeway is an interesting geological formation of hexagonal basalt columns formed by the rapid cooling of lava upon contact with the sea, although legend says it was built by giants (thus the name).
Another bucket list item, another place I'm glad we went, though I can't say it's actually in my top 5 things to do in Ireland/Northern Ireland.
Onward to County Donegal
We finished up there and drove most of the way across the island of Ireland (and out of Northern Ireland and back into the Republic of Ireland) to the west coast, an exhilarating* drive of three hours, partly on the Wild Atlantic Way.
We checked into our B&B and the owner helpfully advised us that if we wanted food other than fish and chips, we'd better hurry down to the village before the restaurant closed at 8. We made it with about half an hour to spare, and got perfectly serviceable Italian food, thank goodness.