We visited Ballynoe Stone Circle and The Dark Hedges before spending the evening in Portrush, NI.
I got up at 7:00 and took a walk around Newcastle for a couple more photos. The most spectacular view was the clouds flowing along the top of Slieve Donard, the highest mountain in Northern Ireland.
It was two days after we arrived in Dublin.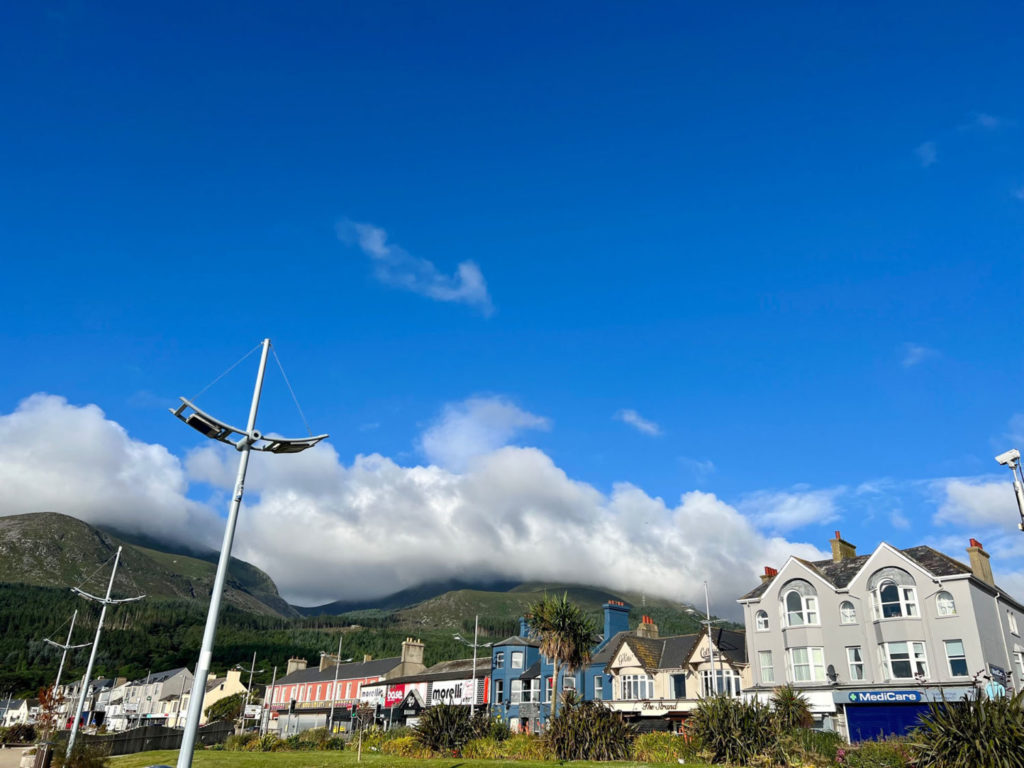 Ballynoe Stone Circle
After breakfast we headed up to Ballynoe Stone Circle. Picture this. We find the sign for it, with a tiny lane and a closed gate and no obvious place to park.
We drive around for a bit, and finally on a little back road a farmer has stopped his tractor (yes, he was driving it on the road, just like at home in Floyd) and gotten down to open his gate. I politely accost him.
"Excuse me, sir, we're trying to visit the stone circle, but we don't know where to park for it."
"Go back and turn on the main road, it's about half a mile, it's just a wee lane you walk up."
"Yes, but where do we park to walk up the lane?"
"Oh, just park on the road."
"On the road? On that road?!?"
"Sure."
"Okay, thanks!"
I get back in the car and tell my family, "He said to park on the road, but surely that can't be right, on that little narrow road!" They agree, and we head back in the direction of the sign, but also stop to ask an older lady who's walking on the road to see if she can tell us where to park.
"Oh, you just park on the road."
"But isn't it too narrow?"
"Oh, you just tuck yourself in well, like."
Okay!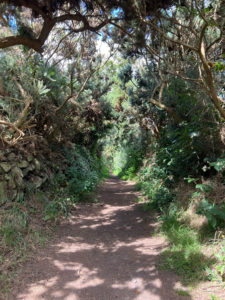 We chat for another moment. She asks where we're from, and we tell her we're from Virginia in the US. She tells us her niece lives in Chilhowie, Virginia—about an hour and a half from where we live. It truly is a small world!
We go back, find a tiny "wide" spot in the road, and tuck ourselves in well. We walk up the little lane, through the gate, and down a tiny, mysterious looking path adorned with fairy doors.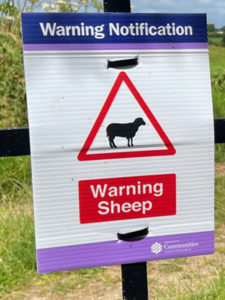 At the end we find another gate, this one with a sign that says "Warning: 🐑 Sheep." My daughter says, "I hope they're not venomous sheep, like in Irish mythology. That would explain the warning!"
There was no sign of sheep, venomous or otherwise. There is a circle of standing stones, with a hawthorn tree with ribbons tied on it for wishes, and other offerings to the Deities or to the Good People.
The whole experience was a little bit magical.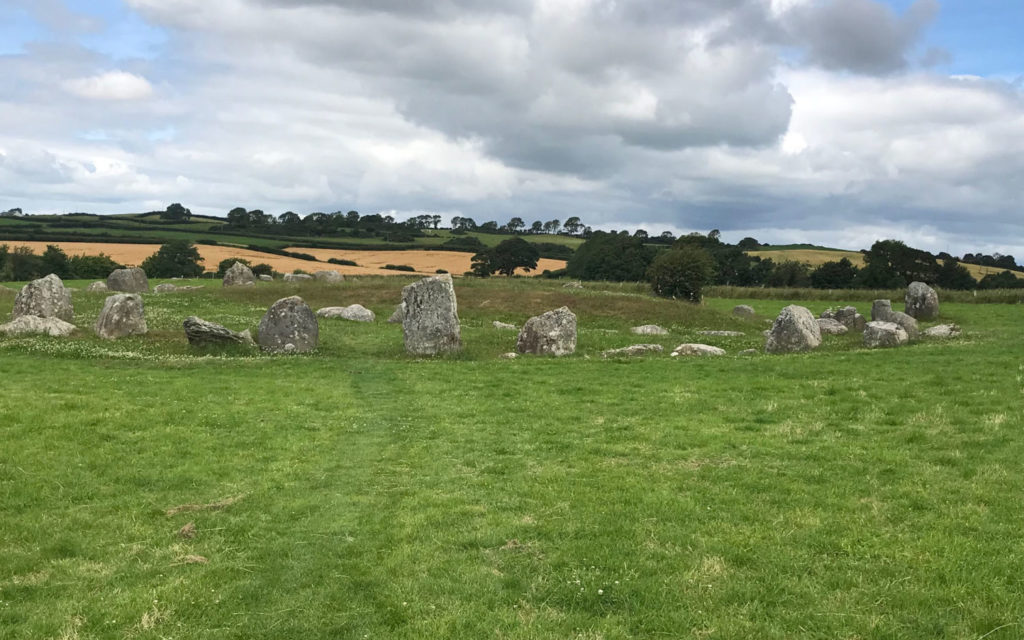 The Dark Hedges
We walked back to the car and headed off to our next destination, the Dark Hedges. The Dark Hedges are famous now because a bit of Game of Thrones was filmed there. I've never seen GoT, but I've wanted to go there ever since I saw a picture of them years ago.
So we went. All in all, the wee lane leading to the Ballynoe stone circle probably looked and felt more like my mental image of the Dark Hedges than the actual Dark Hedges did.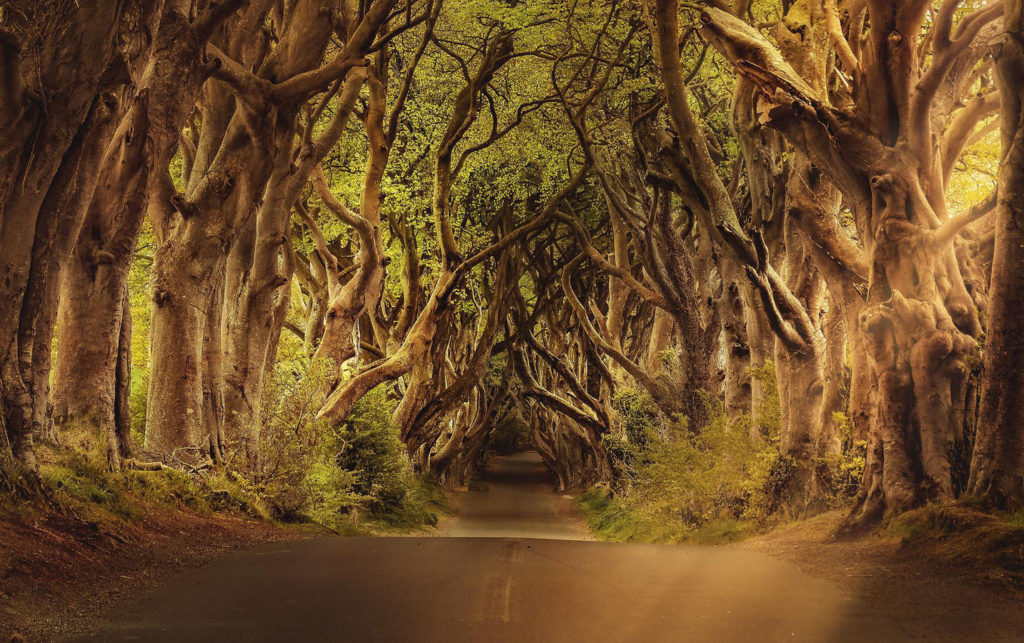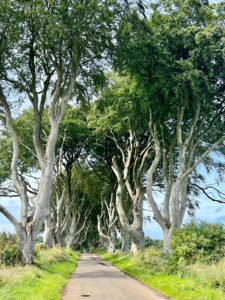 I had found a blog explaining that most of the cool shots are taken with special camera lenses that make it look cooler than it is, and that they digitally processed the footage for GoT to make it even moreso, so I wasn't too shocked or disappointed. The Dark Hedges aren't very dark or mysterious like in the photos, especially on a sunny day when there are lots of tourists. Still, it was pretty, and an item off my bucket list, and I'm not sorry I went.
Portrush
From there we drove half an hour or so to our next Airbnb, in a larger seaside resort town, Portrush. We went out to explore the town and found a donut truck with 10 hot fresh little donuts for £2.50. I tried to pay with a £5 note I had brought with me, which I'd gotten on my prior trip to Northern Ireland in 2017. Apparently, a few years ago they took the paper notes out of circulation and issued all new plastic ones, and the ones I have are now useless except as souvenirs. Fortunately, there was an ATM across the street, so that was quickly sorted. The donuts were quite tasty, and didn't spoil our appetites for dinner.
After dinner we found a larger amusement park, with much better rides than the one we'd skipped the previous evening, so we rode several of the rides. Tickets were just £1 each, and the rides were 2-3 tickets each, for a total cost of £2-£3 each—about half as much as I'd expect them to cost at home. They closed at 10 pm, which was just at sunset.
I'd be really interested to experience the Midnight Sun sometime; the sun not setting till 10pm really does mess with my sense of how early/late in the evening it is.
Whether 10:00 was early or late, we knew we had to get up by 7 the next morning for our 9:00 ferry, so we called it a night.