Why you should visit Malta. Learn about things to do in Malta–both things to do on Malta and things to do on Gozo.
Posts may contain affiliate links, so if you click an affiliate link and/or buy something you'll support this blog and I'll make a little money, at no cost to you. If you really care, you can read our full legalese blah blah blah.
Ah, Malta! Most Americans never even think of visiting Malta, and that's a shame. According to statistics from Travel Agent Central and The Malta Chamber, only about 2% of visitors to Malta in 2018 came from the US or Canada. Some of us have never even heard of Malta; others may just be clueless about things to do in Malta. Here, let me fix that for you!
Malta is a small nation, a member of the European Union, located in the beautiful Mediterranean Sea. There are two major islands: the larger main island of Malta, and the smaller, northern island, Gozo. There's a Malta-Gozo ferry between the two main islands, leaving about every 45 minutes from both sides. It's about a 25-minute ride and accommodates cars and motorcycles, foot passengers, and bicycles.
A little island in between, Comino, is the site of The Blue Lagoon. It's pretty much uninhabited, but you can visit it as a day trip by taking the Comino Ferry.
I'll start with some general information on visiting Malta; if you'd rather, you can skip down to Things to Do on Gozo or Things to Do on Malta.
Visiting Malta
Why Visit Malta?
Not for the beaches. Despite being an island nation in the gorgeous Mediterranean, the beaches aren't all that great–small, mostly rocky, and absolutely packed in the summer.
But Malta is an ideal vacation destination in so many other ways: azure waters, warm temperatures, exotic scenery, ancient ruins, and vibrant local culture. It's LGBTQ+ friendly. The architecture and landscape are striking. The food is delicious, there are good local wines, and the people all speak English. (English is one of the official languages of Malta; most Maltese people speak English and Italian in addition to Maltese.)
When to Visit Malta
Although most visitors come during the summer, this means braving the heat and fighting the crowds, so if you can, I'd highly recommend visiting Malta during the off season (December to February) or the shoulder seasons (March to May and September to November).
We were in Malta from mid-January to mid-April. Technically, November to February is the "rainy season," but we really only experienced occasional showers. We had just come from beautiful but rainy Ireland, where there isn't a "dry season." It was quite a contrast!
Temperatures in Malta during the off-season tend to be highs in the 60s and lows in the 50s Fahrenheit. At these temperatures, the Maltese will be wearing huge puffy coats because it is cold…and if the lows drop into the 40s, they will issue a warning about "extreme cold." There are lots of flowers blooming even in the winter. Compared to our home in the Southeastern US, we found it quite temperate during this season.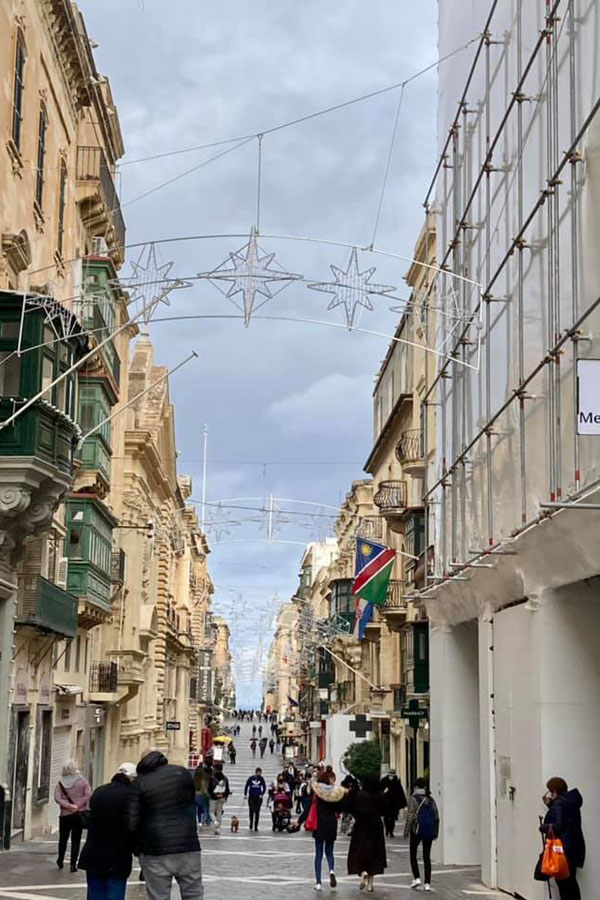 How to Get Around in Malta
If you want to explore Malta and/or Gozo, your two main options are to rent a car and drive yourself, or to take the bus.
Malta has an comprehensive but sometimes frustrating bus system. Here are some tips and tricks for getting around by bus.
If you rent a car, you'll have to deal with driving on the left, roads that are too narrow in places for two cars to pass each other (but are not one-way), and the fact that the Maltese are very…assertive…drivers. If you do want to drive, here are some road safety tips for visitors to Malta.
A third option, which may be excellent depending on where you're staying and what you want to do, is Bolt, which is like Uber or Lyft.
Where to Stay in Malta
While you might wish to stay in one of the areas mentioned below, it only takes about 45 minutes to drive from one end of the island of Malta to the other, so no matter where you are, everything is relatively close by.
We stayed in Airbnb's–a 300-year-old one on Gozo mentioned below, and a lovely townhouse in Buġibba right across the street from the sea, among others. There are plenty of those sprinkled around both islands–everything from fully modern apartments and condos to traditional "houses of character" updated with modern conveniences. Staying in the latter will really give you more of a feel for traditional Maltese and Gozitan life.
Hotels
If you want to stay in a hotel, there are plenty of those too. There were several that caught my eye as places I might like to try on a future trip.
Mellieħa, in the north of the island of Malta, is a pretty town with good restaurants, a good supermarket, and the largest sandy beach Malta. Mellieħa Bay is popular with both locals and tourists, and is only about 5km from the Gozo ferry terminal at Ċirkewwa Harbor. The Maritim Antonine Hotel & Spa, up in the town rather than down at the waterfront, looks quite posh. There are several waterfront hotels as well.
Golden Bay, my favorite beach in Malta, has the beachfront Radisson Blu Malta-Golden Sands, which looks nice.
Qawra, next to Buġibba, is a popular tourist destination. The National Aquarium is there, and the Salina Nature Preserve is nearby. We stayed in Buġibba for two months and found it very livable. We especially enjoyed the restaurants, with their outdoor seating, and the seaside pedestrian promenade. The Hotel Dolmen in Qawra has the ruins of a megalithic temple in its courtyard. The Qawra Palace Hotel has a seaside pool that looks incredibly inviting.
What to Eat and Drink in Malta
Definitely try Maltese food–it is excellent! There's lots of seafood, and really delicious traditional rabbit dishes (though I think my very favorite was the rabbit curry at Mother India in Mellieħa). There are also lots of pizza places, many of which have various specifically Maltese combinations of toppings (the Gozitan ones included sliced potatoes as one of the toppings–surprisingly tasty, if awfully high in carbs). There's lots of Italian food, which is no surprise considering Malta's proximity to Italy; I particularly enjoyed Beef Tagliata, which I'd never had before.
There's also plenty of other food, plain and fancy and international. Much of it can be delivered by Bolt and Wolt.
Some of our favorites included Victoria Gastropub in Buġibba Square, Mount Everest Himalayan restaurant in St. Paul's, Su Swagat Indian restaurant in Buġibba, and Xerri il-Bukket in Qala (mentioned below) and It-Tokk Restaurant in Victoria on Gozo; Is-Suq Tal-Belt Valletta Food Market (mentioned below) had several excellent restaurants.
Definitely try the local wines, which Warren wrote about, and liqueurs; all are interesting and many are very good. The local olive oil is excellent, as is the local sea salt. Try anything with prickly pears that you can get your hands on. (The prickly pear bushes grow into huge hedges there, some with thick trunks like trees.) There is also local produce grown on tiny farms, such as huge artichokes and delicious organic strawberries. And don't miss the Malta Chocolate Factory Café in Buġibba.
If you like yogurt, they have some great flavors there: fig, blood orange with chocolate chips, honey with pecans, stracciatella (vanilla with chocolate flakes), and raspberry with jasmine (that one is amazing!).
We also really enjoyed the "Choco Leibniz Biscuits" (cookies) and Kupiec brand chocolate-dipped rice cakes with peppermint.
How Long Can You Stay in Malta?
Malta is part of the European Union and the Schengen Area. US citizens can stay in the Schengen area without a visa for 90 days; your passport should be valid for at least 3 months past the end of your projected stay.
It's worth noting that Malta now also has a Nomad Residence Permit, allowing digital nomads or anyone who can work remotely at their job in another country to stay for a year (and renew it twice). See this PDF of FAQs regarding requirements and fees.
Things to Do on Malta and Gozo
Things to Do on Gozo
It seems as though most tourists who visit Malta just make Gozo a day trip, and that's a shame. In some ways Gozo felt like the best, more relaxed, and most traditional, part of Malta to me. If you're spending a week or two in Malta, I'd recommend spending half of your time on Gozo. We stayed in an amazing 300-year-old house in the heart of old town in the "northern capital," Victoria or Rabat.
Victoria
Victoria, and Gozo in general, seemed to me to be both more relaxed and more traditional than the main island. The narrow pedestrian streets of old town Victoria seemed unreal, like something from a movie or Walt Disney World, but they are very real and authentic. I'd definitely recommend staying in the same area we did.
One of the best things to do is just to walk around, see the architecture–St. George's Basilica is especially impressive–and wander into the shops (such as It-Tokk Traditional Foods.) Be aware that Maltese shops often open early in the morning, then usually close around lunchtime and reopen a couple of hours later–even the post office does this–and may not always be open during posted opening hours.
Sit in the plaza and have a meal, coffee, or a drink at one of the many excellent small restaurants–most have outdoor seating, which is usable all year.
Make sure to visit the Cittadella, the ancient fortress that is one of the most prominent landmarks on Gozo.
Stroll through Villa Rundle Garden, where you can recycle empty water bottles to feed the stray cats. (There are lots of stray cats in Malta. People feed them and build them little shelters.)
On a practical note, there is an excellent supermarket (Greens, which also has a location in Swieqi on Malta) there in Victoria as well.
Ġgantija
The Neolithic temple at Ġgantija (so named because it was traditionally believed to have been built by a giantess) is well worth a visit. In addition to these ruins, which are even older than Stonehenge and Newgrange, the site includes a visitor center, and admission to the adjacent Ta' Kola Windmill. The site itself is lovely, too.
Ramla Bay Beach
Ramla Bay Beach, known for its reddish sands, is my favorite beach on Gozo. It has Blue Flag status. There are also two caves nearby–Calypso's Cave on the western side of the bay, and Tal' Mixta Cave on the eastern side. Calypso's Cave is reputed to be the home of the nymph Calypso from The Oddessy. Visitors are often confused as to which cave is which. Currently, Calypso's Cave is closed to visitors for fear of a collapse (but the nearby viewing platform, with an excellent view of the bay, is open), but Tal' Mixta cave is open.
Dwejra
Visit the "Inland Sea" (a small enclosed lagoon) at Dwejra. Unfortunately, the former Azure Window rock formation collapsed in 2017, but the area is still worth a visit The nearby Blue Hole is a favorite of divers.
Marsalforn
The town of Marsalforn is a popular tourist spot, with lots of restaurants (I believe Otters was the one I was so fond of), and a lovely pedestrian promenade around the bay.
Great Food and a Great View
I highly recommend both the food and the view at Xerri il-Bukket restaurant in Qala, just up the hill from Mgarr. Definitely get the focaccia, it's the best I've ever had–crispy outside, light inside, rich with olive oil without being greasy, perfectly seasoned with sea salt and rosemary. And definitely sit outside where you can enjoy the view of the Mediterranean, Comino, and Malta, and watch the ferries crossing between the islands.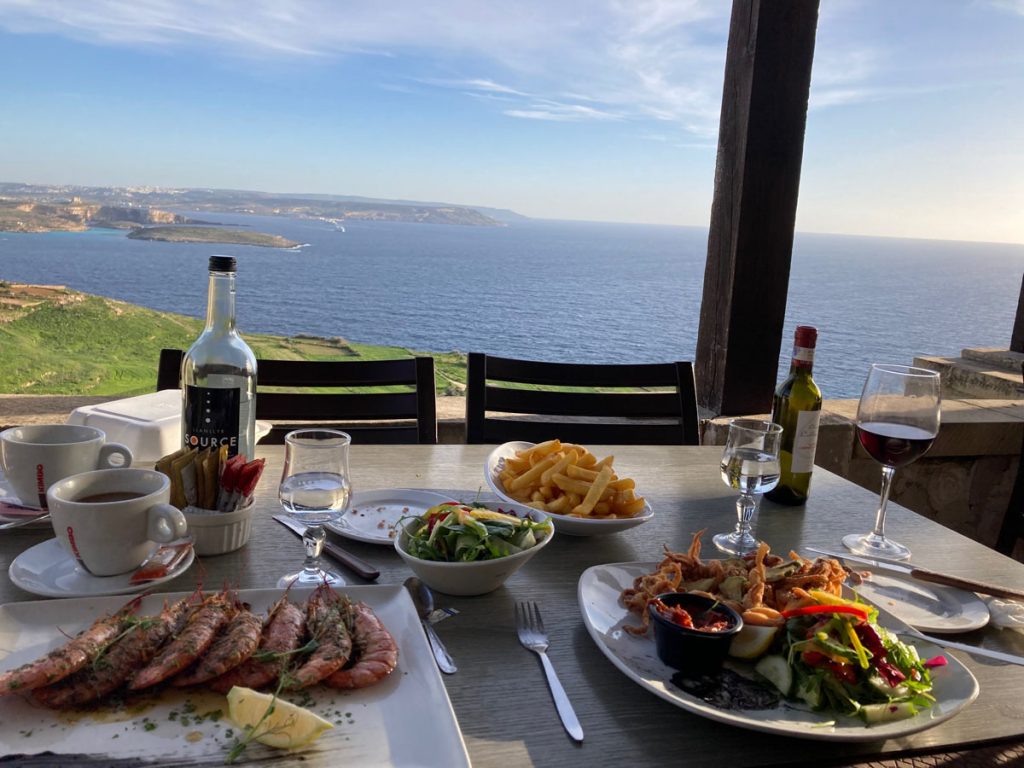 Things to Do on Malta
Buskett Garden Forest
Buskett Garden is the largest woodland in Malta. It's free to visit, and there are pleasant walking paths to wander around. It smells amazing when the orange trees start to blossom.
Chinese Garden of Serenity
A smaller and more formal garden is the surprising Chinese Garden of Serenity. Take off your shoes and walk on the acupressure footpaths, or just enjoy the Zen views in the various garden "rooms."
Golden Bay Beach
Golden Bay is my favorite beach in Malta. There is a little restaurant/ice cream stand there (highly recommend). There's also a hotel, which looks nice, if you want to stay right on the beach. If you are driving rather than taking a bus to get there, be careful of the GPS routing–the first time we went there, Google Maps tried to take us down some tiny road with a sign that said something to the effect of DANGER: CRUMBLING ROAD!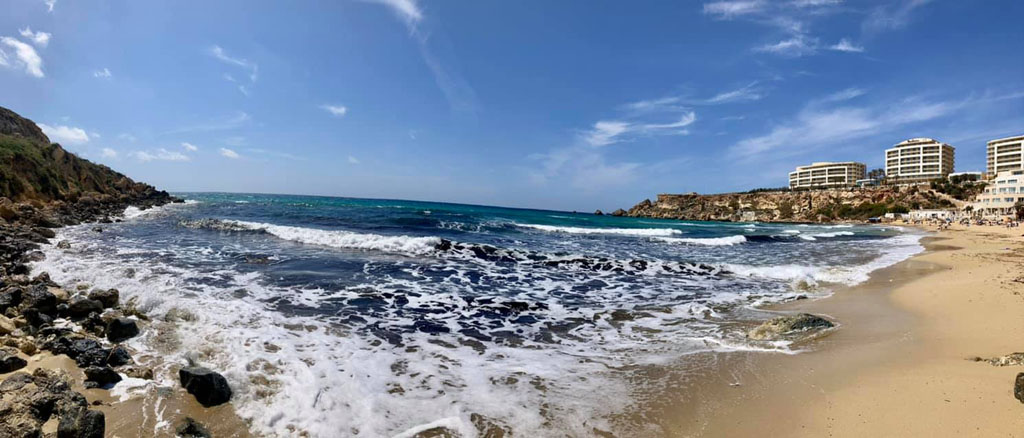 Ħal Saflieni Hypogeum
The Hypogeum, a prehistoric underground burial chamber, is a UNESCO World Heritage Site. Here's an interesting article about the Hypogeum from Smithsonian Magazine from 2017.
Malta National Aquarium
The Malta National Aquarium is in Qawra, on the pedestrian promenade by the Mediterranean. The kids will definitely love it, and probably the adults will too.
Marsaxlokk Fishing Village
Definitely go to Marsaxlokk fishing village on a Sunday, when they have their big fish market/flea market.
Mdina, the "Silent City"
Mdina, a walled city, is billed as "the silent city" because its narrow streets are closed to automobiles.*
*Well, except for residents. There was definitely more noise and traffic than I was expecting.
It's home to Mdina Glass, which also has locations in Valletta and Buġibba. I really liked the glasswork here, and thought it was relatively reasonably priced—compared to, say, Waterford Crystal, which we'd visited in Waterford, Mdina Glass was far more my style, and also more in my budget. I probably would've bought a whole set of wine glasses if I'd thought they could be shipped back to the US without getting broken.
There is excellent gelato at Fior di Latte. Take it outside and eat it as you walk around and look at the views.
Fontanella Tea Garden restaurant is highly recommended, but it was always very busy even during the off-season.
Mdina is also known for the Metropolitan Cathedral of St. Paul and the Mdina Cathedral Museum, the National Museum of Natural History, St. Paul's Catacombs, the Mdina Dungeons, and the Knights of Malta Experience (which looks like fun).
Is-Serkin Crystal Palace in neighboring Rabat is known for having the best pastizzi, the local savory pastries that are popular as snacks or extremely cheap meals.
Megalithic Temples
Similar to Ġgantija, several megalithic temples on Malta are open to visitors. The best known are Mnajdra and Ħaġar Qim; Tarxien is within walking distance of the Hypogeum. Here is a guide to the megalithic temples, and here are tips for visiting them.
Paceville, for Nightlife
If you're in search of nightlife, Paceville has the reputation for being the nightlife hotspot. tIt's also a very busy area in general, with lots of restaurants (and lots of traffic, but not a ton of parking).
Salina Nature Reserve
Kennedy Grove at Salina Nature Reserve near Buġibba and Qawra is another place to enjoy the outdoors in Malta. There are playgrounds, shaded areas, walking paths, outdoor gym equipment, and places to picnic. There are birdwatching areas by the salt pans in the nature reserve.
San Anton Gardens
My favorite public garden in Malta is the San Anton Gardens. We went there several times to see the beautiful flowers–and the stray cats, who are cared for by volunteers. This is another place that smells like heaven when the orange trees are in bloom. Honestly, I think it was one of my very favorite places in Malta.
The Three Cities
The Three Cities are three fortified cities located across the Grand Harbor from Valletta. Confusingly, each of the Three Cities has two names. They are Copsicua/Bormla, Senglea/L-Isla, and Vittoriosa/Il-Burgu. I have to say that the Rolling Geeks electric car tour sounds like the most fun way to explore them, but unfortunately we didn't get to do it while we were there.
Valletta
The walled city of Valletta is a must-see. Valletta is the southernmost capital city in Europe, and the smallest capital city in the EU. It can get very crowded during the summer, but can be quite peaceful during the off-season.
The architecture is quite impressive. Besides the city walls themselves, definitely scope out St. John's Co-Cathedral and MUŻA, the National Museum of Art.
Definitely check out the array of meals, snacks, and drinks on offer at Is-Suq Tal-Belt Valletta Food Market. When we were there, some of our favorites were Himalayan food, a Filipino restaurant (the pork adobo was amazing) and bakery, and bubble tea and mochi.
There are two parks, the Upper and Lower Barrakka Gardens. You can also walk down to the waterfront, where there's even a Hard Rock Café.
If you drive to Valletta, plan to park in one of the lots or garages just outside the walls.
Where Not to Go
The only place we went that I absolutely have to say don't waste your time on is the ironically named "Pretty Bay." It might actually be pretty if it weren't dominated by an important but very unsightly working port.
Where Else to Go
Sicily
Seriously! If you have a couple of extra days, you can take a ferry to Sicily–it's just 50 miles away, and the fastest ferry between Malta and Sicily only takes an hour and a half!
Water Parks and Theme Parks
There are a couple of theme parks and water parks in Malta including Splash and Fun and Popeye Village. Unfortunately they were closed when we were there, so I can't really tell you anything about them.
So there you have it: General information about Visiting Malta, plus What to Do on Malta and What to Do on Gozo!
Oh, and here's a quick guide to Maltese pronunciation, to help with all those place names.
If you are from Malta, or are a frequent visitor to Malta, and have more tips or information that you think people should know, leave a comment below!